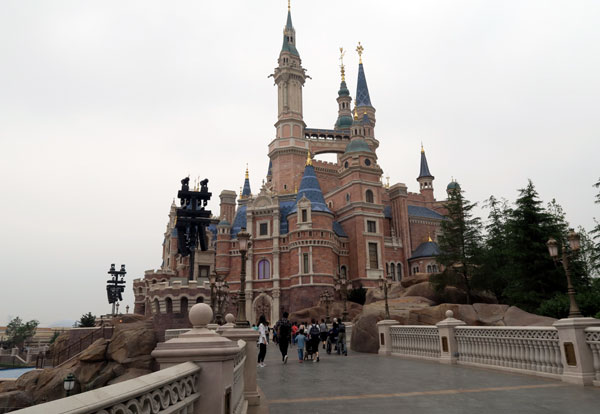 People visit the Shanghai Disney resort on cloudy Sunday. [Photo by Wang Zhuoqiong/chinadaily.com.cn]
Shanghai Disney Resort, a new family entertainment destination, will be an exciting international Disney experience, incorporating unique Chinese characteristics and elements that reflect Chinese consumer preferences, and years of collaboration between Disney experts from China and around the world.
The blend of Disney magic and China's cultural spirit will be apparent in a wide variety of ways, with some Chinese influences immediately recognizable and some more subtly incorporated throughout Shanghai Disneyland, the two themed hotels and the Disneytown entertainment district.
The result is a resort that offers a distinctive Disney experience reflecting the beauty and unique identity of today's China.
The special nature of this resort will be visible in classic Chinese design, from Wandering Moon Teahouse in Shanghai Disneyland to the Shikumen architectural features in Disneytown.

It will be tangible in the experiences, including celebrations of seasonal festivals and stage shows which incorporate Chinese language, performers, theatrics and acrobatics.

It will be delectable, with food and beverages that reflect the Chinese desire for diversity of flavor and traditional favorites. It will even be found in the lush green environment, which encompasses the overall resort, including a variety of exotic trees and shrubs from across China.