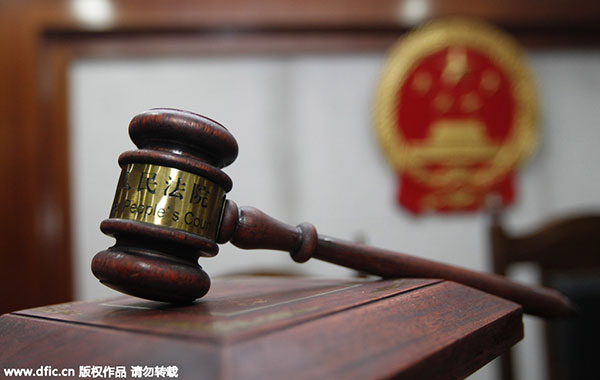 A gavel in a court. [Photo/IC]
BEIJING -- China's civil servants must take exams and be evaluated on their legal knowledge, and abide by the law when exercising power, according to an official document issued on Thursday.
The national recruitment exam for civil servants will put more weight on the candidates' knowledge of the law while incumbents must take exams before being promoted, said the document titled Guidelines on Improving the Arrangements for Civil Servants to Study and Use the Law.
The document, passed in January by the Central Leading Group for Deepening Overall Reform, was jointly issued by the organization and publicity departments of the Communist Party of China (CPC) Central Committee, and the ministries of justice and human resources.
The move aims to enable civil servants to "boost their abilities to deepen reforms, push forward development, resolve conflicts and safeguard stability on the track of the law", the document says, adding that leading officials at all levels should set an example by obeying the law and doing things in accordance with the law.
The decision on comprehensively advancing the rule of law was adopted at the fourth plenary session of the 18th CPC Central Committee in October 2014.
Ma Qingyu of the Chinese Academy of Governance said, as a regulative document issued by the central authorities, the guidelines carry weight and will help bring all the visions concerning rule of law and law-based administration into reality.
Officials must learn law
Those who seek jobs in law enforcement agencies will take a special examination.
The law will be an important performance criterion and a key step to promotion. Leading officials of Party and government departments will have an annual review of their knowledge.
Since the 18th CPC National Congress in late 2012, the CPC leadership has repeatedly instructed senior officials to lead by example in abiding by the law and studying the law, but some of them have not paid enough attention to the issue, and a few of them have knowingly broken the law, a Ministry of Justice official told Xinhua.
The guidelines stress the study of the Constitution, the basic laws of the country, laws closely related to social and economic development and the daily life of the people, laws related to civil servants' official duties, as well as the rules of the Party.
While organizing law-themed lectures and forums on a regular basis, Party organizations should also hold study sessions pertaining to a specific field before reaching a major decision and keep a record of learners' attendance and study progress.
The document also highlights microblogs, WeChat and other social-networking services as learning platforms, encouraging organizers to arrange learners to attend court hearings.
Law will become a compulsory training subject for officials in Party schools, governance academies and other training institutions.
Abiding by law
In addition to study, the document urges Party and government groups to verify the legality of major decisions, and establish a mechanism to backtrack liabilities and punish officials for illegal decision-making, abuse of official power and dereliction of duty that lead to severe consequences.
The document highlights major decision-making in the law enforcement field, stressing that such decisions must be evaluated and approved in accordance with the law first, and those that haven't gone through this process are invalid.
Ma Qingyu said negligence of law in decision-making still exists. In some localities vain construction projects to beautify buildings fail to take into consideration cost-effectiveness or whether it's a good distribution of resources, which leads to waste of public resources.
Legal verification and other procedures are quite important, said Ma.
The document stipulates that governments at all levels should all employ legal consultants to provide legal opinions during major decision-making. Party and government organs as well as state-owned enterprises should all have their own lawyers.
At present, many local governments have legal consultants, even at the county level, Ma said. It has been a common practice for a while, but with the document, the practice of governments seeking advice from legal consultants will be a unified requirement from the central authorities.
The document also stresses transparency, urging government and Party organs to inform the public of their duty and jurisdictions as well as the legal basis, progress and results for official decisions and projects.
In March 2015, China issued rules to name and shame officials who interfere in judicial cases, and judicial personnel are obliged to keep detailed records should the interference occur, no matter who is involved.
According to the rules, officials will have committed violations if they intercede for litigants, ask personnel handling cases to meet with the litigants or their defenders privately, or overstep their authority to make tendentious suggestions or directions on handling of cases by means of hearing reports, holding meetings or issuing circulars.