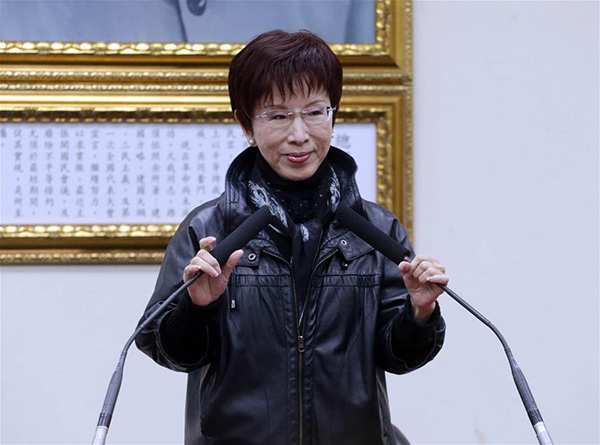 Hung Hsiu-chu attends a press conference in Taipei, March 26, 2016. [Photo/Xinhua]
TAIPEI - Hung Hsiu-chu, Taiwan's former deputy legislative speaker, was elected the chairperson of Kuomintang (KMT) on Saturday becoming the party's first female leader.
Hung garnered 78,829 votes, or 56.16 percent of the total, to beat the other three candidates - KMT's acting chairperson Huang Min-hui, legislator Chen Shei-saint and Taipei city legislator Lee Hsin.
The election was held after Eric Chu resigned from the post to take responsibility for the defeat in the island's leadership election to Tsai Ing-wen of the Democratic Progressive Party on Jan 16.
Xi Jinping, general secretary of the Communist Party of China (CPC) Central Committee, on Saturday congratulated Hung on becoming the KMT chairperson, expressing hopes for the CPC and the KMT to continue to stick to the 1992 Consensus and fight against "Taiwan independence".
Hung replied in a letter that since 2008, the KMT has promoted peaceful development of cross-Straits relations on the basis of the 1992 Consensus, citing the signing of multiple agreements between both sides of the Taiwan Strait, the launches of direct flights and allowing tourists from the mainland to visit Taiwan.
"At this key moment, although our party is confronted with stark challenges, I will take on the responsibility and lead all party members in unity to embrace a brand-new future," Hung said in the letter.
Hung also said that she hopes both parties continue to uphold the 1992 Consensus, further strengthen mutual trust and cooperation, and push forward the innovation of exchange platforms.