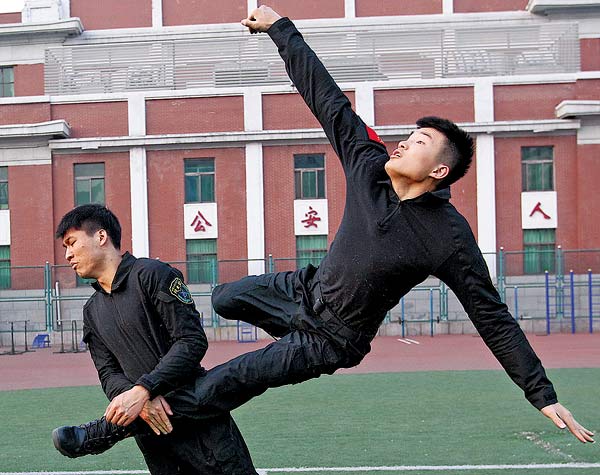 Students majoring in counterterrorism at the People's Public Security University of China attend a physical combat training session. Zhang Wei / China Daily
Deadly terror attacks at home and abroad have spurred China's efforts to develop counterterrorism personnel to confront extremist threats.
Since 2014, the People's Public Security University of China has recruited two classes of 80 students each to major in counterterrorism and receive additional military training in weapons and intelligence gathering.
"We urgently need to train counterterrorism specialists to improve our preventive and terror-fighting capabilities to cope with serious terrorist incidents," said Mei Jianming, director of the Counterterrorism Research Center at the university, which is the first in China to train such professionals.
In recent years, terrorists have incited hostilities and launched terror attacks across the country — including in Kunming, the capital of Yunnan province, and the Xinjiang Uygur autonomous region — that killed or injured hundreds of people.
The four-year counterterrorism program — which enrolls students who have passed not only the national university entrance exam but also physical and psychological tests — includes training in investigation, technology, strategy and tactics, as well as international judicial cooperation, said Xu Meng, a physical training instructor at the college.
"Attention will be given to their physical training and overall strategic research. They will also learn to use weapons, including submachine guns and sniper rifles," he said.
The first recruits include 27 female students. Shi Zhuoran, 19, a freshman from Xinjiang, said the region is the key battleground for combating terror attacks and has a strong need for special counterterrorism personnel.
"It's my dream to be a counterterrorism officer," she said. "I hope I will grasp more strategy and tactical anti-terror methods, then contribute more to the country after my graduation."
Mei, the center's director, said most of the graduates will join counterterrorism departments under the Ministry of Public Security or in local public security units.
China created counterterrorism departments in public security agencies at the national, provincial and municipal levels in 2001, but there was a shortage of specialists.
"To tackle the increasing threat of terrorist attacks, it's more than necessary to enhance counterterrorism law enforcement cooperation with relevant countries, including the United States, Pakistan, Israel, Russia and some European countries," Mei said last week.
The university has 30 senior professors and has invited counterterrorism experts to serve as visiting professors from the US, Israel, Pakistan and Australia to help train the anti-terror specialists.
"The US and Israel have rich experience in combating terrorism. The US is advanced in overall strategic research, and Israel is proficient at tactical actions in fighting terrorism," he said.
The university also intends to regularly send its best students to the US and Europe to participate in anti-terror training programs to get practical experience.
The Ministry of Public Security said it will strengthen judicial cooperation with Interpol, which will offer more internships for Chinese students in its member states.