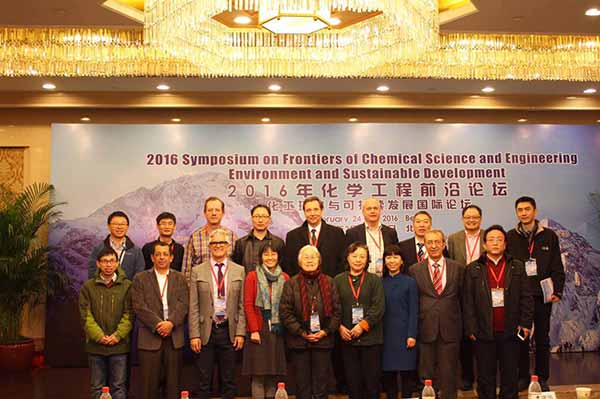 John Crittenden (the third from left in the second line) attends the 2016 Symposium on Frontiers of Chemical Science and Engineering Environment and Sustainable Development in Beijing on February 25. [Photo provided to chinadaily.com.cn]
With more new energy vehicles and autonomous vehicles on the road, Beijing is expected to see more blue sky and smoother traffic, said experts in environmental protection and sustainability.
New energy vehicles should be increased from the previous 30 percent to more than 50 percent of annual new vehicle purchases by central government organs, public institutions and some cities, said China's State Council last week.
When the desulfurization rate of power plants is above 93 percent, new energy cars are cleaner than gasoline cars, given that larger scale use of energy tends to be more efficient and more environmentally friendly than smaller scale use, said Lin Xiao, PhD and associate professor with Institute of Process Engineering of Chinese Academy of Sciences.
What's more, with greater adoption of new energy cars, more emissions are actually transferred to other parts of China from Beijing because the capital doesn't have many large power generation plants, added Lin, an expert in process emission reduction and environmental protection.
China has been promoting the use of new energy vehicles with subsidies and tax cuts in the past two years in a bid to cut emissions and save energy, and the sector saw explosive growth.
In the first eight months of 2015, sales of new energy vehicles surged 270 percent to 108,654, according to the China Association of Automobile Manufacturers.
The development of autonomous cars is another direction for Beijing to reduce emissions, said John Crittenden, a member of National Academy of Engineering of the US and also a member of the Chinese Academy of Engineering.
Autonomous driving may also be a solution to Beijing's traffic jams because self-driving cars require shorter distance between cars than traditional cars, and also smaller parking spaces, added Crittenden, an expert in the sustainable development of cities.
Baidu Inc, the Beijing-based online search giant, successfully completed a test drive of its driverless car on various roads in early December, and said it intends to mass-produce the vehicles within five years.
The year 2016 will be a year for much growth and advancement in the area of self-driving cars, and innovators will partner with each other to share their expertise, according to the 2016 State of Self-Driving Automotive Innovation report.
More than 22,000 unique patents in self-driving were filed from January 2010 through October 2015, and the trend is continuing its upward climb, said the report.