Environmental protection is important to public health and economic development, premier says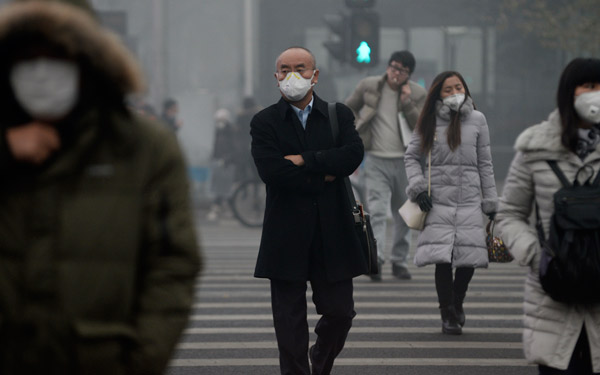 Pedestrians cross the road in Zhongguancun, Beijing, during a smoggy day in December.[Photo/China Daily]
China will intensify its efforts to reduce pollution, Premier Li Keqiang said in his annual Government Work Report on Saturday, citing as an example ambitious targets in fighting smog that will increase the number of days with good air quality.
"Pollution control and environmental protection are important to people's health and the sustainable development of the nation. Sowemust work hard to move forward," he said.
Lower emissions of major water and air pollutants have been targeted, cutting them by 2 to 3 percent this year. This will help reduce the concentration in the air of PM2.5, particulate matter smaller than 2.5 microns in diameter that is hazardous to health.
The PM2.5 concentration declined in China from 72 micrograms per cubicmeter in 2013 to 55 in 2015, according to the Ministry of Environmental Protection.
The central government has further tightened restrictions on vehicle emissions, and another 3.8 million outdated or high-emission vehicles will be taken off the road this year.
The 13th Five-Year Plan (2016-20), the national road map for social and economic development, is setting targets to raise the percentage of days with good air quality to 80 by 2020, from 76.7 percent lastyear.
The central government is emphasizing that all companies in major polluting industries - such as steel, cement making, papermaking and printing - meet the national emission standards.
Lu Lunyan, Climate and Energy Program director, the WWF China, said, "I am pleased to see the government's endeavors in environmental protection," adding that such measures, paired with the government campaign to phase out outdated and excessive capacity in the industrial production, could efficiently reduce polluting emissions.
Ren Wenwei, director of the Yangtze program (footprint) of WWF China, applauded the annual report and the national road map because they stipulate binding targets and various efforts to reduce pollution, "Such restrictions have previously and will even more so now force many companies to stop polluting and upgrade their technology,"Ren said.
Additionally, he said, the top leadership's attention to improving the environment is benefiting the quality of China's economic structure, which is transforming to a focus on services industries.
Zhao Kezhi, top leader of Hebei, a province with heavy air pollution, voiced full support for the tighter emissions restrictions and the government's efforts to fuel economic growth through environmental protection.