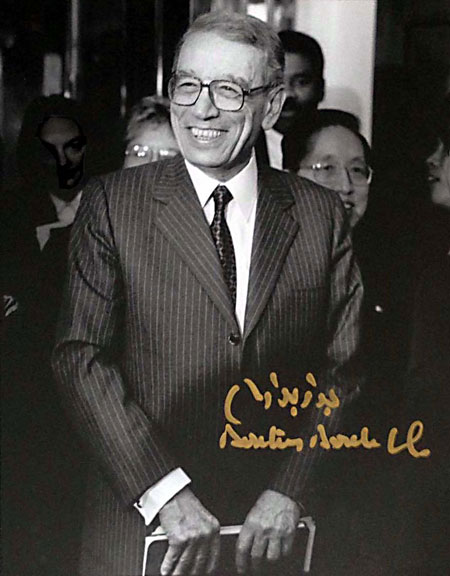 This file photo with Boutros Boutros-Ghali's signiture was taken on March 26, 1996 at Beijing's Zhongnanhai during his visit to China. [Photo by Xu Jingxin/China Daily]
BEIJING -- China on Wednesday expressed grief over the death of former United Nations (UN) Secretary-General Boutros Boutros-Ghali.
"Boutros-Ghali was a world famous politician and diplomat," Chinese Foreign Ministry Spokesman Hong Lei said at a regular press conference, voicing China's sincere condolences to Boutros-Ghali's family, the Egyptian government and the Egyptian people.
Boutros-Ghali made an unforgettable contribution to resolving conflicts, improving human welfare and strengthening the role of the UN with his great diplomatic skills and enthusiasm during his tenure as UN chief, said Hong.
The spokesman said that as an old friend of the Chinese people, Boutros-Ghali was committed to China-Egypt relations and China-UN cooperation. In January, the former UN chief received an award for his outstanding contribution to China-Arab friendship from the Chinese People's Association for Friendship with Foreign Countries.
"His dedication to UN undertakings, China-UN cooperation and China-Egypt friendship will never be forgotten by the Chinese government and people," Hong added.