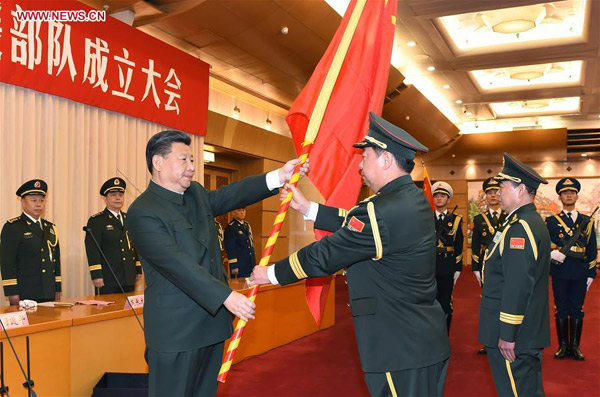 Chinese President Xi Jinping (L F), confers the military flag to Li Zuocheng (C F), commander of the Army of the Chinese People's Liberation Army (PLA), and Liu Lei, political commissar of the Army, in Beijing, capital of China, Dec. 31, 2015. The general commands of the PLA Army, Rocket Force and Strategic Support Force were founded on Thursday. [Photo/Xinhua]
BEIJING - Chinese President Xi Jinping on Thursday conferred military flags on the general command for the Army of the People's Liberation Army (PLA), PLA Rocket Force and PLA Strategic Support Force at their inauguration ceremony held in Beijing.
Xi said the move to form the PLA Army general command, the PLA Rocket Force and Strategic Support Force is a major decision by the Communist Party of China (CPC) Central Committee and the Central Military Commission (CMC) to realize the Chinese dream of a strong military, and a strategic step to establish a modern military system with Chinese characteristics.
It will be a key milestone in the modernization of the Chinese military and will be recorded in the history of the people's armed forces, according to Xi.
He said the PLA Rocket Force is a "core force of strategic deterrence, a strategic buttress to the country's position as a major power, and an important building block in upholding national security."
Xi urged officers and soldiers of the PLA Rocket Force to understand the roles and tasks of the force and to enhance nuclear deterrence and counter-strike capacity, medium- and long-range precision strike ability, as well as strategic check-and-balance capacity to build a strong and modern Rocket Force.