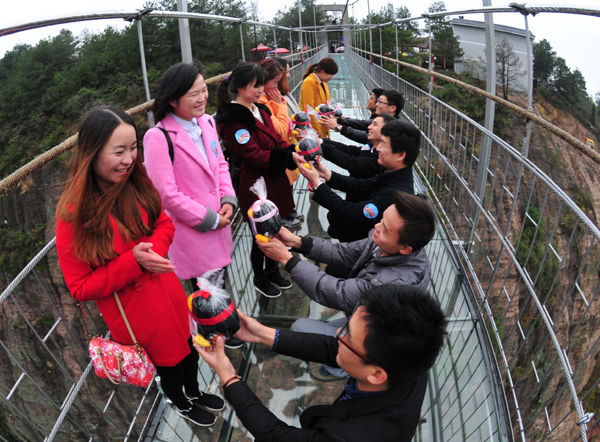 Marriage is proposed on an elevated walkway at Shiniuzhai Geological Park, Pingjiang, Hunan province, on Wednesday. XU XING/CHINA DAILY
Single men from northern China are less inclined to be wooed by women than their counterparts from the south of the country, a survey has found.
Men from the north generally cannot accept women being more active in expressing love and starting a relationship, according to the survey.
Released to coincide with Single's Day on Wednesday and conducted by jiayuan.com, a leading Chinese dating website, the survey polled more than 85,000 single men and women throughout the country.
It found the practice of women wooing men was least acceptable in three northern provinces-Heilongjiang, Hebei and Shandong.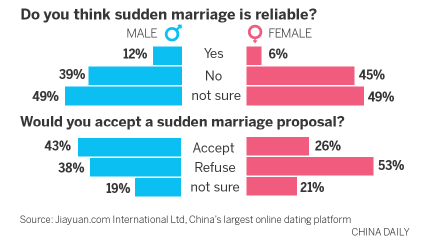 In contrast, single men from the south, especially those from Zhejiang and Jiangsu provinces and Shanghai, are more positive about the practice.
Liu Jiangbo, a 29-year-old man from the northern province of Shaanxi, said he was the first to confess his love to his girlfriend five years ago.
"This is what a man should do if he loves a woman," said Liu, who works for a State-owned company in Beijing. "As men, we should not wait for women, who are usually shyer than men, to be the first to say 'let's start a relationship'. "
Zhang Jiarui, a senior consultant on romantic relationships at jiayuan.com, said the concept of women being inferior to men has predominated in China for a long time and is reflected in aspects of social life including romantic relationships and marriage.
"Influenced by such thinking, Chinese tend to feel that men should take the initiative in doing many things, including wooing women, rather than the other way around," Zhang said.
"Although the inferiority concept is dying out and Chinese women are more open and proactive in modern society, in some parts of China as mentioned in the survey men still believe that they should be the first to ask about starting a relationship."
The survey also found that women tend to be shyer than men, as reflected in the approaches they take to expressing love.
Wu Di contributed to this story.
What they say
"I can totally accept it if a woman woos me. Unfortunately, this has never happened. I have always been the one taking the initiative to express love in each of my romantic relationships." - Zhu Haizhou, a 28-year-old man from Yangzhou, Zhejiang province. Married.
"I'm OK with a woman wooing a man. But I may not do it myself because I like men who are proactive in a relationship." - Guo Xiaodan, a 27-year-old woman from Dalian, Liaoning province. In a relationship.
"It doesn't matter who is the first to express love as long as two people are fond of each other." - Li Qiang, a 24-year-old man from Datong, Shanxi province. Single.
"I'm never interested in women who take the initiative in wooing me. Compared with the feeling of being courted, I enjoy the feeling of courting others." - Li Haipeng, a 32-year-old man from Harbin, Heilongjiang province. Single.