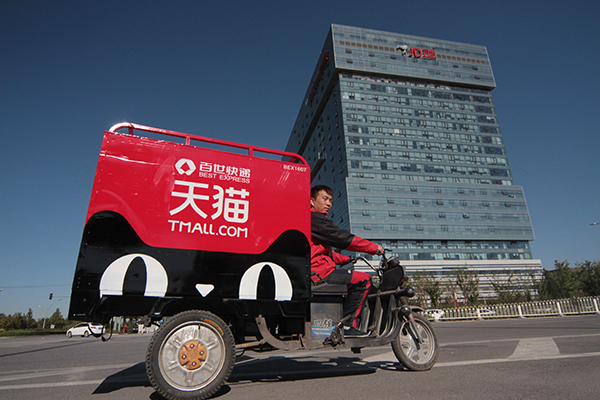 A delivery agent rides past the headquarters of e-commerce company JD.com Inc in Beijing. [Photo/China Daily]
Judges are calling for online shoppers to chose companies that deliver directly to China when they buy online from overseas to reduce the chance of disputes that could end in court.
The suggestion came from the judiciary in Shunyi district, home to Beijing Capital International Airport and its many supporting logistics companies, as the Nov 11 Singles' Day shopping festival approaches, which is now China's biggest buying day of the year.
Disputes relating to deliveries have increased along with the rapid growth in online shoppers buying cheap goods from overseas that often involve multiple express delivery companies, said Zhang Danfang, chief judge of one of the civil trial departments at Beijing Shunyi District People's Court.
Zhang's department has dealt with 347 disputes concerning logistics over the past five years, according to a report issued by the court on Thursday.
The figure hides the fact that cases are almost always resolved out of court, and most customers chose not to spend the time or money taking a company to court.
But now, the Shunyi court has selected two judges to specialize in express lawsuits to cope with what is expected to be a sharp increase in cases.
"Our court heard the most logistics disputes of all the Beijing courts, because Shunyi is the capital's biggest logistics center with almost 100 express companies," Zhang said. "Of those, 26 have a turnover higher than 10 million yuan ($1.6 million)."
Most logistics cases in the past involved individuals who wanted express companies to compensate for their lost parcels. "But now, many disputes take place between express delivery corporations and their big clients, and lawsuits caused by overseas purchases also happen frequently," Zhang said.
Buying cheap overseas goods can result in more disputes, the judge said. "Cheap purchases often mean people have to wait longer as the product will involve several express companies and be transferred several times during the delivery process," she said.
"The more transits, the higher risk a product will be lost or damaged."
Many goods on overseas shopping platforms can now be delivered to China directly via express companies such as DHL and FedEx, global market leaders in the logistics industry.
"Direct delivery can better protect logistics, even though they are a little bit expensive," Zhang said.
Luo Caixu, head of the North District of DHL Global Forwarding China Co, said that a simple transit can reduce trouble, especially with overseas purchases.
Luo suggested consumers should read and clarify what they are responsible or liable for before they order overseas purchases on the Internet, and should keep track of their online invoices until they receive their parcels.
Li Hai, a legal adviser from Shuangchen Express, a company specializing in air logistics, suggested online shoppers should select goods for which sellers pay the freight charges, which can help them reduce unnecessary problems with express companies.
"Sellers are more familiar with contracts that they sign with express corporations," Li said.