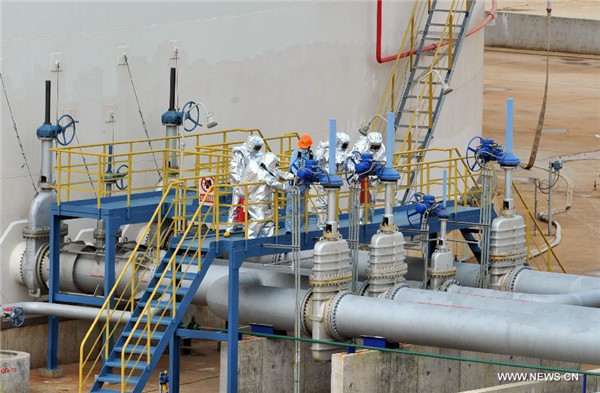 Rescuers shut off valves to put out a petrochemical fire during a drill in Yangpu of Hainan, Sept 17, 2015. Rescuers from South China's provinces of Hainan and Guangdong, and Southwest China's Guangxi Zhuang autonomous region took part in the joint cross-sea fire drill on Thursday. [Photo/Xinhua]
HAIKOU - A trans-regional petrochemical fire drill was held on Thursday in the southern island province of Hainan.
The simulation, in Yangpu Economic Development Zone in Hainan, was that a crude oil tank burst and lightning caused the oil to catch fire.
Public security and company fire fighters were immediately mobilized after receiving the fire report.
The Ministry of Public Security also mobilized nearly 100 firefighters and 15 fire engines from neighboring Guangdong province and Guangxi to help put out the flames.
Altogether 434 firefighters and 82 fire engines participated in the drill.
Coordination, emergency evacuation and the handling of dangerous chemicals were included in the exercise. Drones were also used.
Lin Tiegang, head of the public security firefighting force in Hainan, said the drill was the first trans-regional and trans-maritime fire drill in the country.