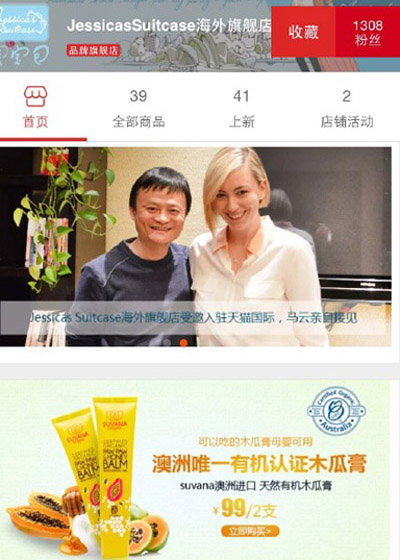 A screenshot from Jessica Rudd's online Tmall store includes a picture with Jack Ma, chairman of the Alibaba Group. [Photo/Weibo]
The daughter of a former Australian prime minister has opened an online store at e-commerce giant Alibaba Group's Tmall.com, selling Australian organic products to China.
Jessica Rudd, whose father Kevin Rudd was PM between 2007 and 2010 and again in 2013, made the announcement through her account at China's Twitter-like Weibo. "I hope you will like Jessica's Suitcase and find what you need in it!" she wrote.
The products displayed on jessicassuitcase.tmall.hk, are mainly organic baby food and women's goods from Australia, including fruit purees and sanitary pads.
Rudd helped promote his daughter's business by forwarding and commenting on her Weibo message. "Good to see my daughter open an online store in Tmall and sell Australian specialties".
The news also interested many Chinese Weibo users. "Competition in the business of overseas purchasing is getting more intense," one joked.
"It seems the rule of daddy-is-the-key also works in the business of overseas purchasing," another ridiculed.
Last year, Australian Organic appointed Jessica Rudd as a "trade ambassador" to help smooth increased organic trade between China and Australia.
She lived in Beijing for five years and is married to a Hong Kong immigrant.
A craze for organic food is taking China by storm as the country's middle-class gains stronger purchasing power and awareness of healthy living and dietary concerns increase.
Urbanites, including white-collar workers and young moms, are seeking alternative ways to buy safe and healthy products, partly spurred by waves of food safety scandals.
An increasing number of Australian organic food companies are moving to tap into the growing Chinese market.
The National Association for Sustainable Agriculture Australia general manager, Ben Copeman, estimates the Chinese market is worth up to $100 million a year for Australian organic producers, according to a report on Radio Australia.
Alibaba signed an agreement with Australia Post last year to enable more Australian small businesses to gain a foothold in China through the online platform of Tmall.com