Rising diversity in Australia-China trade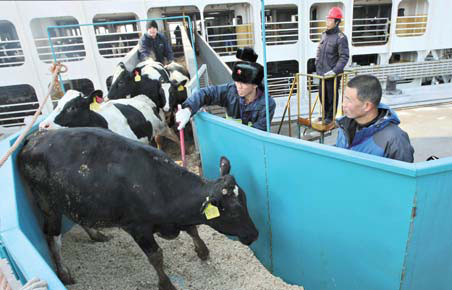 Farmers in Jiangsu province took delivery of high-quality cows from Australia in January 2013. Xu Peiqin / for China Daily
Not only resources, but also services and agri-products
Chinese President Xi Jinping's ongoing visit to Australia and Australian Prime Minister Tony Abbott's recent visit to Beijing to participate in the APEC Economic Leaders' Meeting underscore a shared commitment by the two sides to further deepening and broadening bilateral ties, said Michael Clifton, senior trade commissioner and national manager of the Australian Trade Commission in China.
As income levels in China continue to rise, consumers are demanding quality food, more livable cities, a cleaner environment, a great education and the opportunity to travel.
All those areas offer current and prospective opportunities for Australian businesses, he said.
China now ranks as Australia's most important trading partner. Statistics show in 2013 the total value of bilateral trade in goods and services increased by over 20 percent to reach around A$150 billion ($131 billion).
"In 2013, China accounted for over 30 percent of Australia's exports in goods and services with a total value in excess of A$100 billion - surpassing the combined value of our exports to Japan, South Korea, the United States and India," said the Australian official.
Resources such as iron ore, coal and gold account for around 80 percent of Australia's goods exported to China, he said.
But the good news on trade extends well beyond minerals and energy, said Clifton. China is Australia's largest market for service exports with Chinese tourists and students proving to be a powerful combination.
Australia is playing host to more and more Chinese visitors who are keen to experience its many tourist attractions. Students from China now account for almost 28 percent of Australia's international student market. On average they spend about A$20,000 annually.
Meanwhile, Australia is well-positioned as a trusted supplier of premium quality agricultural produce. Exports of beef, lamb, citrus and horticultural products continue to grow at a rapid pace, and increasing numbers of Chinese consumers are enjoying premium wines from Australia.
China has also emerged as Australia's fastest-growing market for dairy exports including infant formula and UHT milk.
In 2013, iron ores, coal, gold and copper topped the list of Chinese imports from Australian, while major Australian imports from China included telecom equipment and parts, computers, clothing and furniture.
As the Australian government agency promoting international trade, investment, education and tourism, Austrade has played an active role in promoting Australia-China trade ties and helping Australian businesses tap the Chinese market.
According to Clifton, Australian companies are now very active in the Chinese market. The AustCham Greater China network has more than 1,000 members drawn from a wide range of industry sectors.
The Goodman Group has built an impressive logistics network across China. WorleyParsons is China's largest international engineering, procurement and construction management services provider.
The Lynch Horticultural Group has established a global-scale flower growing and distribution center in Kunming. And Australian architect Hassell is working with local partners to shape urban landscapes and city skylines.
For five consecutive years, China has remained Australia's biggest trading partner, biggest destination for exports, biggest source of imports and biggest source of trade surplus. Australia ranks second in China's overseas investment destination countries since 2005.
It caters to both sides' interests to continue to build on this positive momentum in Australia-China trade.
wanghui@chinadaily.com.cn