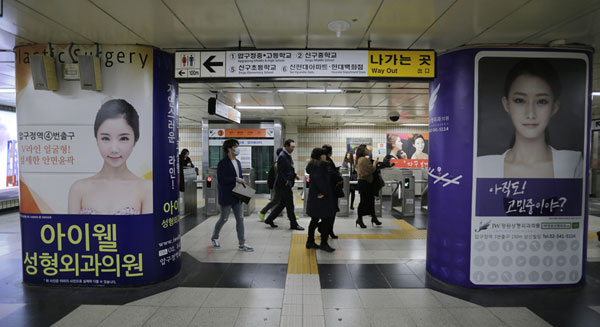 People walk pass by posters advertising plastic surgery clinics in Apgujeong station at the Gangnam district in Seoul, South Korea, Nov 21, 2014. [Photo/IC]
South Korea's leading cosmetic surgery industry association has officially declared a 50-year-old Chinese woman brain dead following a surgery in Seoul last Tuesday.
The Association of Plastic Surgeons says the woman's heart suddenly stopped beating and she suffered brain death during a procedure at a small clinic in the busy Gangnam District.
The woman was sent to the nearby Samsung Seoul Hospital immediately but she didn't regain consciousness until Friday.
The clinic has been accused of conducting cosmetic surgeries against the country's health law.
It has been since closed.
Jo Soo-young, member of the Association of Plastic Surgeons, says such private clinics, without any medical licenses, are usually operated by businessmen instead of professional doctors.
"Such kinds of hospitals operated by businessmen are set up to make money. Compared with safety and health, money is more important for them. They will always try to get money by any means."
Jo says fewer than 2,000 surgeons are officially registered in South Korea.
However the number of cosmetic surgeons in the market is 10 times more than that.
South Korea has developed a fame for cosmetic surgeries, and has seen more and more Chinese people rushing to the country for procedures.
But some intermediary agents in China are said to be introducing people to illegal clinics for higher benefits.