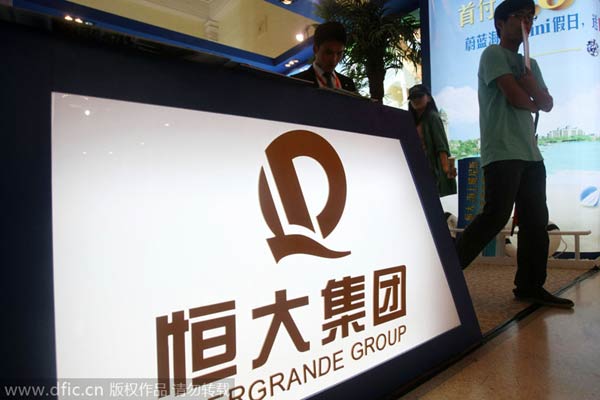 A visitor walks past the stand of Evergrande Group during an exhibition in Shanghai, China, October 6, 2013. [Photo/IC]
Evergrande Real Estate Group Ltd has bought a stake in South Korea's biggest plastic surgery operator, WONJIN Aesthetic Surgery Clinic, in an effort to tap the increasing demand from domestic clients, sources to the company said.
The acquisition came after Evergrande, based in Guangzhou, capital of Guangdong province, announced in August that the company had adopted a long-term strategic plan to diversify its business for future growth.
On Sept 1, Evergrande launched three subsidiary groups to enter the agricultural sector in the grain and oil, dairy and animal husbandry sectors.
But the company did not provide details about the acquisition, saying only that it will establish a joint medical cosmetology hospital with the South Korean plastic surgery giant soon.
"Evergrande will launch a healthcare subsidiary group, which will be responsible for the plastic surgery business," said a manager with Evergrande, who was not willing to provide her name.
WONJIN Aesthetic Surgery Clinic, which has 34 professional plastic surgeons, is the largest comprehensive plastic surgery operator in South Korea.
Evergrande has run recruitment ads for the healthcare subsidiary, saying the business will serve more than 50 million people within a few years.
"We are preparing for the launch of a plastic surgery hospital," the manager said.
According to the advertisements, which ran on 51job, a job services website, annual revenue of Evergrande's healthcare business will exceed 16 billion yuan ($2.6 billion) in 2015, and the business will encompass at least six big cities in China.
In the surgical business alone, revenue will reach more than 10 billion yuan annually within three years, covering more than 10 million people, according to the ads.
Industry insiders said Evergrande's involvement in the healthcare sector will help the company achieve sustainable development.
"Teaming with the world's best plastic surgery operator will help boost the company's portfolio and develop a new growth engine for Evergrande, as the property market has witnessed a downward trend," said Han Shitong, deputy director of the Guangdong Real Estate Industrial Research Association.
The output value of China's cosmetic and plastic surgery industry is expected to grow by 15 percent year-on-year to exceed 850 billion yuan by the end of 2014, according to media reports.
"Evergrande should take the plastic surgery industry into serious consideration. The market is there, but risks also exist as more surgical failures have been reported in recent years," Han said.