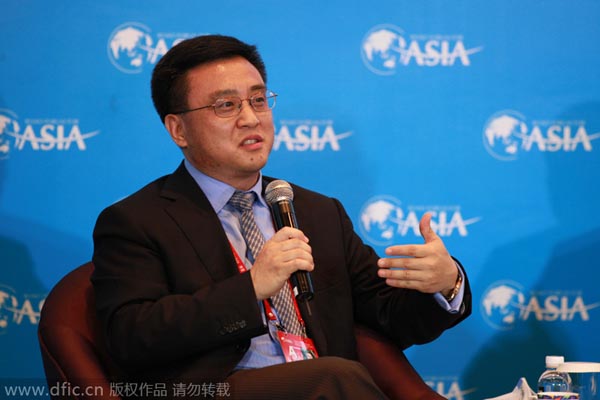 Zhang Yaqin, corporate vice-president of Microsoft Corp. CHINA DAILY
Zhang Yaqin, a top executive for Microsoft Corp in China, is leaving the United States-based company to join local search provider Baidu Inc.
The 48-year-old Microsoft veteran who calls company founder Bill Gates his mentor said his mission has been "accomplished" more than a decade after joining the computer software firm.
For more than a decade, Zhang, corporate vice-president of Microsoft and chairman of its Asia-Pacific Research and Development Group, has headed the company's largest research and technology incubator outside the US.
"I spent 16 years fulfilling my commitment to Microsoft. Now it is time to follow my heart and answer a new calling," he said in a statement on Monday.
Zhang's next stop will be the world's largest Chinese language Internet search website, a source within Baidu told China Daily. The source asked to remain anonymous because the announcement has not yet been made public.
"Because Western firms tend to have regulatory issues in China, the likes of Baidu are able to capitalize on this by hiring top Chinese talent," said Neil Flynn, head equity analyst at Shanghai-based Chineseinvestors.com, a leading financial analysis firm of US-listed Chinese companies.
In May, Baidu hired former Google Inc artificial intelligence project leader Andrew Ng to head Baidu labs in Beijing and Silicon Valley.
As more Chinese tech companies open US operations, hiring high-end talent from multinational corporations will become commonplace.
"Chinese companies are not only acquiring the technology that a startup produces but also the talent. With the wealth and acquisition power these top Chinese technology firms have, they are more than capable of competing with overseas rivals on this front," Flynn said.
Gene Cao, a senior analyst at consulting firm Forrester Research Inc, said Zhang represents one of Baidu's best hopes for beating Alibaba Group Holding Ltd and Tencent Holdings Ltd in the race for profits.
Zhang's experience in technologies such as cloud computing will help Baidu expand into new areas besides online searching.
Baidu has been vigorously exploring businesses such as unmanned automobiles, location-based services and wearable devices after being criticized for being slow to adjust to new trends.
The research and development expenses of the Beijing-based company exceeded 1.7 billion yuan ($280 million) in the second quarter of this year, representing an 84.5 percent jump from last year, according to its quarterly report. Most of the increase went to new hiring.
Meanwhile, Microsoft is trying to minimize the aftershocks caused by Zhang's departure.
China's leading position in Microsoft's global R& D setup will not change after Zhang, according to S. Somasegar, corporate vice-president of the developer division at Microsoft.
But the company has faced huge setbacks in China over the past few months because of layoffs and antitrust investigations.
The State Administration for Industry and Commerce, one of China's anti-monopoly watchdogs, is investigating the US company's flagship products - the Windows operating system and Office business software - for monopoly violations.
Microsoft's latest operating system, Windows 8, was banned from central government offices because of security concerns.
Microsoft also is cutting as many as 5,000 employees from its Nokia plants in Beijing and Guangdong despite strong resistance from local employees.