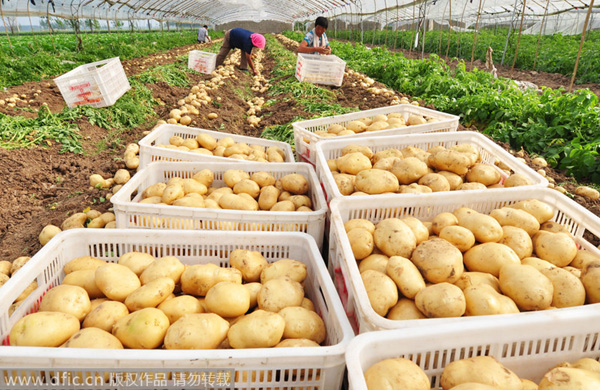 Farmers harvest potatoes in a village, Shandong province, May 7, 2012. [Photo/IC]
Officials are quickly gaining an appetite for persuading Chinese consumers to eat more potatoes.
Economic planning authorities say the move is aimed at producing more food from the country's limited supplies of irrigation water now that grain imports are rising continuously.

The country's top economic planning body said on Thursday that a program to add potatoes to China's list of food staples will be expanded substantially.
Xu Shaoshi, minister of the National Development and Reform Commission, said potatoes will be mixed into bread, steamed buns and noodles to suit Chinese consumers' taste and habits.
The Ministry of Agriculture will ensure that potatoes comprise up to 30 percent of the materials for these products, Xu said.
"As many compound food products have already been made and tested, the potato will soon be Chinese people's newest staple food, after rice, wheat and corn," Xu said at a meeting in Beijing to discuss national grain distribution work.
According to information obtained from the meeting, the Ministry of Agriculture is planning for 50 percent of China's annual production of potatoes to be consumed as a staple food on the domestic market by 2020.
Raising consumption of potatoes will not compromise land already cultivated for wheat, rice and corn, officials said.
Hu Zengmin, an analyst at the China National Grain and Oils Information Center in Harbin, Heilongjiang province, said development of potatoes as a new food staple will help China to optimize its food resources and strengthen security of its future grain supply.
Hu said China has continued to import more international grain, in particular corn and wheat, in recent years.
This is because its rising grain output cannot catch up with increasing consumption and diversified food varieties, including two big grain users-the modernized food supply chain and livestock.
Sun Maojun, a researcher at the Institute of Food and Nutrition Development under the Ministry of Agriculture, said that besides guaranteeing China's food safety, making the potato a staple is also crucial to protecting the diminishing water table in the drought-prone northern plain.
"Potatoes need much less water than grain, giving hope that the arid north has a sustainable future," Sun said.
Contact the writer at zhongnan@chinadaily.com.cn