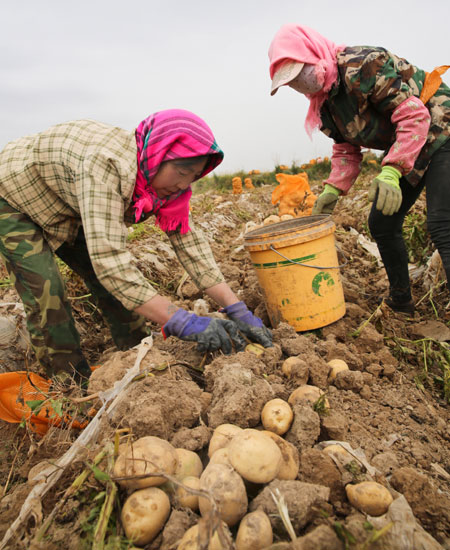 Farm workers are busy harvesting potatoes in Minle, Gansu province, in September.
WANG JIANG/CHINA DAILY
China is boosting potato cultivation to transform the crop into the country's fourth staple food after rice, wheat and corn, Yu Xinrong, vice-minister of agriculture, said at a seminar on Tuesday.
It is time for potatoes to become a staple food, given China's rapid urbanization, as they can diversify the dinner table, said WanBaorui, director of China's State Food and Nutrition Consultant Committee.
Potatoes have been grown in China for about 400 years and now cover 5 million hectares, according to the Ministry of Agriculture. The area devoted to potatoes will expand to 10 million hectares to better safeguard the country's grain supply, according to the ministry.
The country will see 50 billion kilograms of new food demand by 2020. China has a shortage of farmland and while it is hard to improve the yield of wheat and rice, it is easier to improve the yield of potatoes, according to the ministry.
The country has set a "red line" minimum of 120 million hectares of cultivated land, but pressure on arable land is still great, largely due to rapid urbanization.