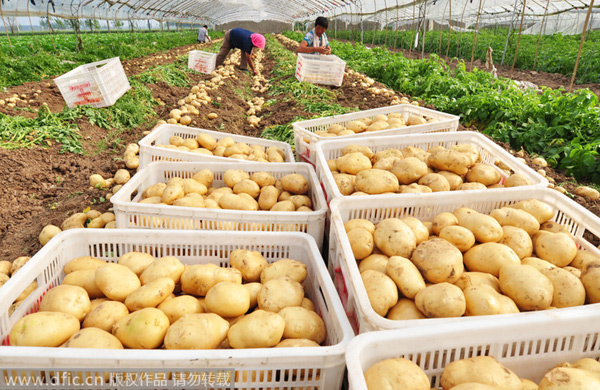 Are potatoes a vegetable or staple? The Ministry of Agriculture announced at a recent symposium its strategy to promote potato cultivation and popularize it as a food staple. Comments:
With balanced nutrition and high productivity potatoes are an ideal food for people in today's world. But Chinese people have always treated potato as just a vegetable, instead of a staple. With the marriage of traditional and Western-style food over the past decade, this is the right time to encourage people to accept potatoes as a substitute for grains.
ntv.cn, Jan 7
Domestic demand for grain continues to grow robustly. According to estimates, China will need an additional 100 million tons of grain by 2020. However, shortage of water and other resources have seriously thwarted efforts to increase the production of wheat and rice. It is necessary to expand potato fields in order to ease the pressure on the environment as well as meet people's needs.
People's Daily, Jan 7
Traditional Chinese cooking relies heavily on boiling and steaming when it comes to grains. Since potatoes are cooked differently, Chinese people have not accepted it as a staple. According to experts, in order to popularize potatoes as a staple, the authorities need to fund research projects to develop diversified potato products that suit people's tastes.
CCTV News, Jan 7
Potato contains less carotene and anthocynanin but more calories per kilogram than most other vegetables. As a staple, potato is better than rice. But as a vegetable, it is no match for spinach, carrot or tomato.
cnfol.com, Jan 5