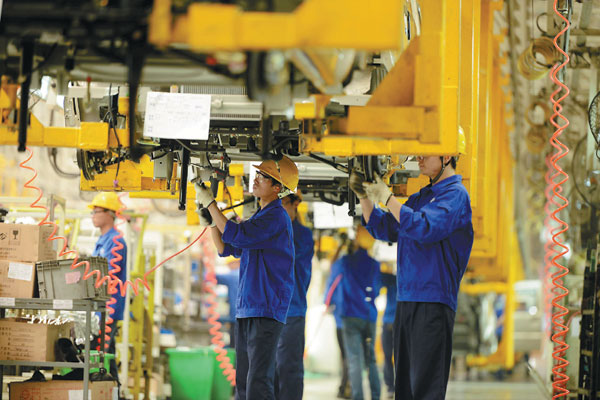 Employees at an automobile factory fine-tune a vehicle in Qingdao, Shandong province. China's GDP grew by 7.3 percent in the third quarter of this year. [Provided to China Daily]
Global growth in 2014 was yet again lower than initially expected, continuing a pattern of disappointing outturns over the past several years. Growth picked up only marginally in 2014, to 2.6 percent, from 2.5 percent in 2013. The global growth outlook for 2015 is not rosier either: it is expected to rise moderately to 3 percent, and an average about 3.3 percent through 2017.
Several major forces are driving the global outlook: soft commodity prices, persistently low interest rates but increasingly divergent monetary policies across major economies, and weak world trade. In particular, the sharp decline in oil prices since mid-2014 will support global activity and offset some of the headwinds to growth in oil-importing developing economies. However, it will continue to dampen growth prospects for oil-exporting countries, with significant regional repercussions.
Risks to this slow-moving global recovery are tilted to the downside. If the eurozone or Japan slips into a prolonged period of stagnation or deflation, global trade could weaken further.
So how will China navigate this ever-complex and fragile international economic landscape? The World Bank projects a 7.1 percent growth in GDP for 2015, followed by 6.9 percent in 2016 - still impressive, and contributing more than a third of global growth in 2015. The "new normal" growth rates reflect the government's desire to pursue structural reforms that would allow the country to maintain a fast-paced but more sustainable and equitable long-term growth. The agenda, set at the Third Plenum of the 18th Communist Party of China Central Committee, is capable of delivering such growth and the implementation thus far has been promising.
In implementing these reforms, China is facing a delicate balancing act: some of the reforms, notably those that slow down the rapid credit growth that China experienced in the past are desirable, as they reduce the risk of a hard landing in the future. They also prevent a further buildup of wasteful excess capacity in industry and ghost towns. But some fear that a too rapid slowdown would compromise growth and employment if no other sources of demand emerge. At the same time, reforms that would spur higher quality growth and create new jobs in the new economy may take time to bear fruit.
How should China strike this balance? First, it is important to observe that despite the lackluster recovery in high-income countries, China's economy will still benefit from growing external demand and lower oil prices - adding perhaps a percentage point in growth in 2015. This contrasts with the years right after the global financial crisis, when domestic demand had to carry all the weight for growth.