Growth must help improve people's livelihoods and raise household income, Li says
Premier Li Keqiang described the employment situation as his primary concern when he met the media on Thursday to wrap up the annual session of the national legislature. Li said the main reason for setting China's GDP growth target at around 7.5 percent this year is to ensure employment, improve people's livelihoods and to increase urban and rural incomes.
He said China cares more about its people's livelihoods than mere figures. By the same token, it cares about employment more than growth.
Faced with increasing signs of a slowdown in economic growth, employment will be used as the main factor to determine whether to roll out contingency measures to stimulate the economy.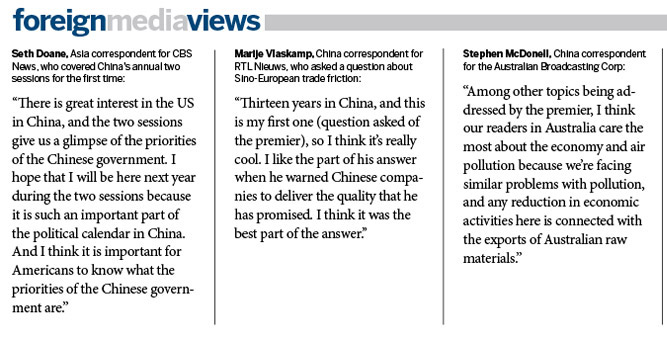 Observers said Li's comments are aimed at dispelling some economists' fears that the government may still be so obsessed with a high growth target that it is willing to hand out stimulus measures to boost the economy, as it did after the 2008 global financial crisis.
That stimulus package, while lifting the economy in the short term, left many after-effects that are still being felt today. These include a glut of overcapacity in some industries and mounting local government debts.
A Xinhua News Agency article said that although China's 7.5 percent growth target is the same as in the previous year, its importance is fading as many believe the government will no longer view the figure as the necessary minimum as it usually did in the past.
Senior leaders and officials have on various occasions backed the macroeconomic control strategy featuring the concept of growth within "a proper range".
This entails a lower limit to ensure steady growth and job creation and an upper limit to avert inflation, and was first proposed by Li in July.
Finance Minister Lou Jiwei joined the calls last week for more comprehensive understanding of the growth target instead of merely fixating on the 7.5 percent figure.
GDP growth, inflation and employment are all key factors that should be considered when assessing economic conditions, Lou said at a news conference, adding that growth of 7.3 percent or 7.2 percent "still counts".
Li said at his news conference on Thursday that maintaining a certain growth rate is necessary because there is a "positive relevance" between GDP and job generation.
"I have visited some families in which none of the members were employed. The entire family is listless and without hope.
"Each year, we have to deliver 10 million urban jobs while leaving room for the 6 to 7 million migrant workers to seek employment in cities. So an appropriate growth rate is necessary," he said.
The government has allowed certain flexibility on GDP growth, and the "lower limit" is "sufficient employment and an increase in household income".
"We are not preoccupied with GDP growth. The growth that we want is one that brings real benefits to the people, helps raise the quality and efficiency of economic development, and contributes to energy conservation and environmental protection," Li said.
Sun Xuegong, a researcher at the Institute of Economic Research under the National Development and Reform Commission, said that although some economists fear the pursuit of growth might undermine the need for structural reform, such reform and growth are not necessarily mutually exclusive.
"There are opinions that when growth is too fast, it is not a good time for reform. But ... when there is too much of a slowdown, it is not good for reform either.
"A slowdown in growth would lead to stagnation in the general living standard, which in turn would stifle the need for industrial upgrading," he said.
If there is a sharp fall in GDP growth, the government also has every right to make adjustments to monetary as well as fiscal policies. Such adjustments would not work in the same way as a simple financial stimulus, Sun said.
So it would be misleading to see any policy adjustment as just a "stimulus design", he added.
Contact the writer at zhengyangpeng@chinadaily.com.cn.