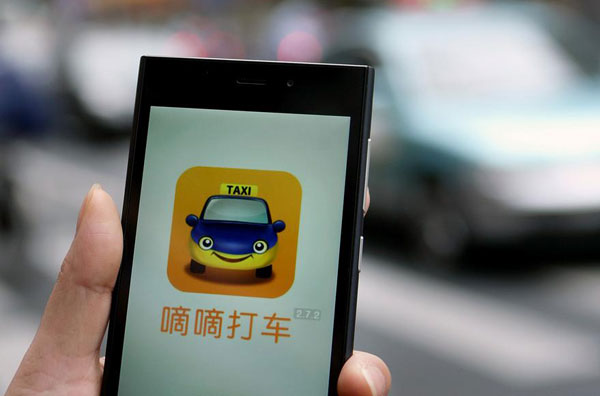 A passenger uses car-calling service app Didi Dache on a smartphone in Shanghai, on May 16, 2014. [Photo/Xinhua]
Upgraded versions of car-hailing apps are facing problems in China, with transportation departments in many cities considering these services illegal.
The Shanghai Municipal Transportation Commission has started to crack down on unlicensed car-hailing services provided via the Internet.
The commission said on Wednesday it has seized 12 cars providing such services through Didi Zhuanche, which focuses on high-end travelers using the Didi Dache app. Five of the car owners were fined 10,000 yuan ($1,606), while the seven others are still under investigation.
Unlike the standard Dache car-hailing service, which connects passengers with professional taxi drivers, the upgraded Zhuanche service uses car owners who do not drive taxis for a living.
The cost of the Zhuanche service is two to three times higher than regular taxi fares.
Yang Xiaoxi, deputy director of the commission, said the Didi Zhuanche service is illegal because all the cars are registered for private use and are not licensed for passenger transportation services.
"An unlicensed car service puts passengers' safety and rights at risk. It disturbs market order and increases the difficulties for us to do our work," Yang said.
On Wednesday, the Traffic and Transportation Bureau in Zibo, Shandong province, said the Didi Zhuanche service could not operate in the city. Car owners who violate this regulation will be fined up to 30,000 yuan.
At the end of October, the Shenyang Transportation Department in Liaoning province also ruled that the Zhuanche service is illegal, while its counterpart in Nanjing, Jiangsu province, fined two such car owners 8,000 yuan each.
Didi said the Zhuanche service should not be listed as illegal because the company only signs contracts with car rental companies or labor service firms that guarantee service quality and passenger safety.
Zhu Pingdou, vice-president of Didi, said: "One feature of an illegal car service is that driver and passenger information is not transparent to each party. ... Our Zhuanche service, on the contrary, has established a transparent platform via the Internet."
However, Yang said none of the 36 registered car rental companies in Shanghai has cooperation deals with Didi.
Ding Ning, a Shanghai lawyer, said she enjoys the Zhuanche service because the cars are better than standard taxis and the drivers are friendly.
"It is really hard to find a taxi during rush hour. The authorities should consider passenger convenience before they shut down such service platforms," she said.
Xu Lijiang, a Beijing taxi driver, said the service obviously affects the interests of cabbies because the car owners don't pay the monthly franchise fees. "If I could vote, I would oppose such a service," he said.
The Didi Zhuanche service was launched in August as part of the company's strategy to enter the high-end market.
It has more than 100 million registered users and over a million registered drivers, with a peak of more than 5.2 million transactions a day.
Didi's service covers more than 300 cities in China.
Hu Yongqi contributed to this story.