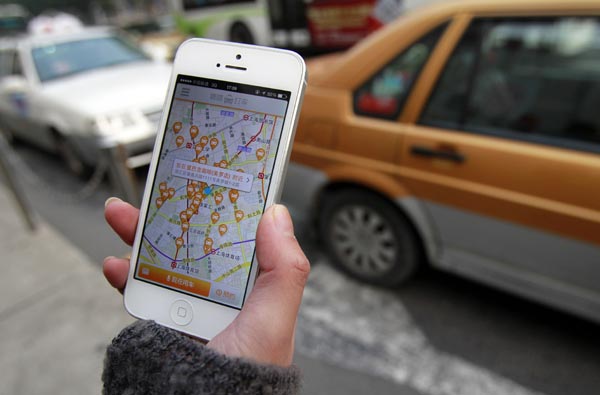 A customer checks his smartphone app that eases finding a taxi. Ding Ding / China Daily
SHANGHAI - Didi Taxi, China's popular cab-hailing app similar to Uber, has attracted an investment worth more than $700 million, Beijing Xiaoju Tech Co Ltd announced on Tuesday, marking the biggest investment in China's mobile Internet sector.
Investment group DST, Singapore's state-linked investment giant Temasek and China's tech juggernaut Tencent were all involved. It is one of the biggest single investments for China's non-listed Internet companies.
Cheng Wei, the company's CEO, said with the investment, Didi will ramp up research and development efforts for the application, and try to expand new businesses.
With Tencent's huge number of users (it has 468 million users on WeChat, its instant messaging service), the investment is expected to give Didi extra firepower in the taxi app market battle in China, said Liu Chiping, president of Tencent.
Similar to San Francisco-headquartered taxi service Uber, Didi Taxi was started in June 2012. So far, it has more than 100 million registered users and over one million registered drivers, with more than 5.2 million transactions a day at the highest. Didi's service covers more than 300 cities in China.