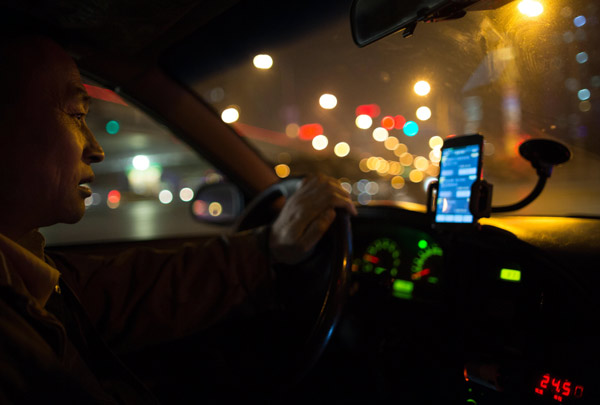 A taxi driver glimpses his smartphone when driving his car. [Mao Yanzheng / Asianewsphoto]
BEIJING - Beijing taxi drivers are now limited to using only one cab-hailing app on their smartphones to find customers, as authorities ruled the distraction is a threat to driving safety.
The Beijing transport commission's regulation, which entered effect on Thursday, came days after China's two Internet giants, Alibaba Group and Tencent, launched a price war to woo customers to their online payment platforms.
Alipay, the country's largest third-party online payment platform and a subsidiary of Alibaba Group, has invested heavily in its cab-hailing app KuaiDi on a promotion of rewarding customers with payment subsidies. The move came on the heels of a similar subsidy program by cab-hailing app Didi, with investment from Tencent.
The transport commission has found that many taxi drivers are already fans of the cab-hailing apps, and are keen on checking messages to grab more cab calls.
Under the new regulation, however, each taxi is only allowed to be linked with one cab-hailing app. Cab drivers should prioritize driving safety before responding to smartphone messages.
The commission said it will team up with Beijing's transport law enforcement corps to enforce the regulation.