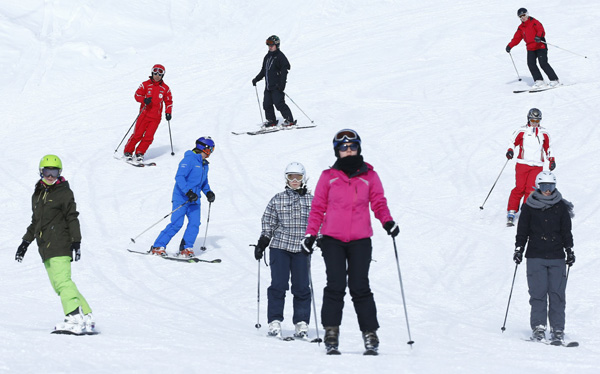 China's wealthy have long flocked to Switzerland for the watches, chocolate and scenery. Now the Alpine country is marketing another national symbol to the Chinese-skiing.[Photo/Agencies] 
They are also ready to spend on property, artwork and watches, Hurun report says
The lives of the super rich are always of great interest to ordinary people. How billionaires snowball their personal wealth, what they do in their leisure time, how many days a year they spend on business trips, what kind of gifts they send to their friends and relatives-even their astrological or Chinese zodiac signs-are probed, apparently giving inspiration or setting trends.
The number of rich people has been expanding in China over the past few years. According to the Hurun Report, the Shanghai-based media group that documents every aspect of the rising ranks of the Chinese rich, more than 2.9 million Chinese people had personal wealth of more than 6 million yuan ($976,100) by the end of last year-100,000 more than a year earlier.
The number of rich people with personal wealth of over 100 million yuan increased by 2,500 to reach 67,000 by last year, the Hurun Report said.
Although the means by which these rich people accumulated wealth varies from person to person, their preferred ways of spending money are quite often the same. Their favorite investment, despite the recent downturns, is still property.
According to the Hurun Report, the current favorite property in Shanghai is a golf villa. The average price of a 350-square-meter golf villa in Shanghai has risen 6 million yuan this year to reach 25 million yuan. Such villas are eagerly pursued, the report said, since rich people seemingly believe they are "scarce resources worth investing in".
Another important area of investment by rich people is their personal health, according to Rupert Hoogewerf, founder and chief researcher of the Hurun Report.
"Basically, they manage their health by eating healthfully and exercising regularly," Hoogewerf said. "The second important thing is a regular medical checkup. Medical trips, medical clubs, and even placenta injection are more widely accepted by high-net-worth individuals."