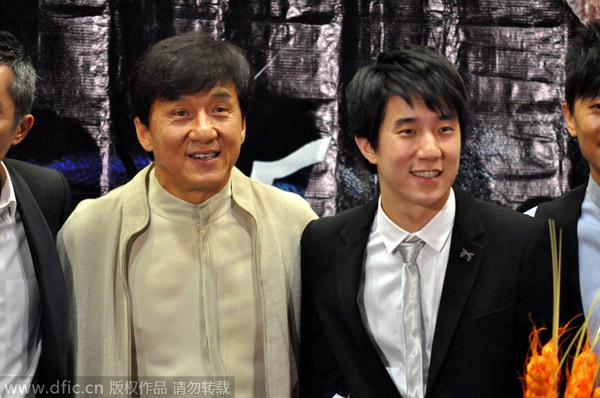 Jackie Chan and his son Jaycee Chan are seen in this file photo taken on June 5, 2012. [Photo/IC]
Jaycee Chan, the 32-year-old son of kung fu superstar Jackie Chan, has been detained by police in
Beijing
, according to media reports.
Chan is one of two actors who have become the latest targets of Beijing's anti-drug campaign, the reports said.
Police said they confiscated more than 100 grams of marijuana at Jaycee Chan's home and the next day arrested another man surnamed Song, who allegedly sold the drugs to the pair.
The other actor detained is Kai Ko, 23, from Taiwan, who rose to stardom for his role in the movie You Are the Apple of My Eye. He was detained for suspected drug use in the capital's Dongcheng district on Thursday, Beijing Public Security Bureau said on its micro blog on Monday.
Angie Chai, head of Ko's brokerage company, said on her micro-blog that Ko would be detained for 14 days.
Police said that Jaycee Chan is under criminal detention for allegedly hosting others to take drugs, while Ko is under administrative detention.
Under the law, people taking more than 50 grams of drugs face penalties ranging from three years in prison to death.
On Aug 13, the Beijing Trade Association for Performances along with other performance groups signed an affirmation to prohibit narcotics in the city's entertainment industry. They promised not to cast or organize performers with a history of drug use in any performances.
On Aug 4, actor Gao Hu and three others, suspected of using drugs separately in Chaoyang district, including about 7 grams of marijuana and 1 gram of methamphetamine, were detained, police said, adding that all of them had confessed.
Three days earlier, actor Zhang Mo, the son of director and actor Zhang Guoli, was detained for allegedly taking drugs. Zhang Mo was detained for the same reason in 2012.
Director Zhang Yuan and scriptwriter Ning Caishen, also known as Chen Wanning, were detained for drug use in June.
Chen, 39, was detained for 10 days after police found 1.5 grams of drugs in his apartment in Chaoyang.
In May, singer Li Daimo was sentenced to nine months in prison for hosting a crystal meth party at his Chaoyang home.
Since January, more than 7,800 people have been detained for taking drugs in Beijing, an increase of about 72 percent year-on-year, police said.