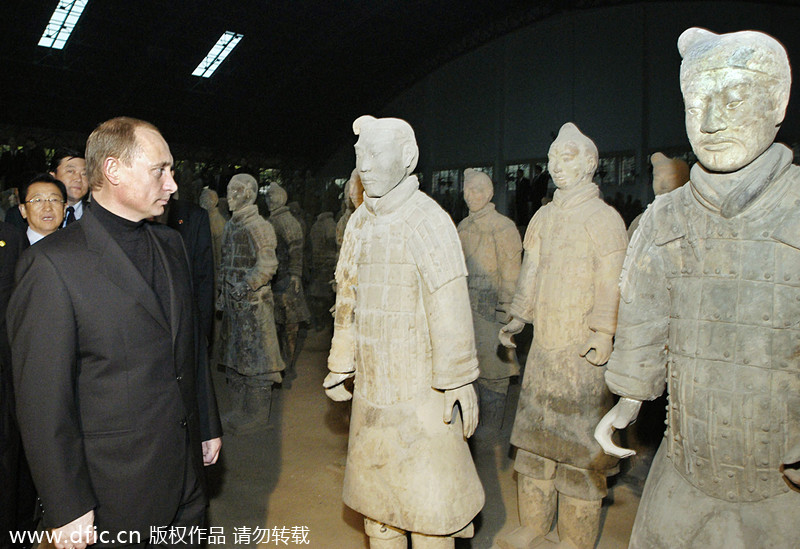 On October 17, 2004, Russian President Vladimir Putin visits The Terracotta Warriors Museum, located near the burial vault of Emperor Qin Shi Huang, the legendary emperor who unified China around 200 BC. [Photo/IC]
Since 1979, more than 200 heads of state have visited Xi'an, the capital city of Shaanxi Province in northwest China, during a state visit to China, including Queen Elizabeth II, Emperor Akihito and presidents and prime ministers from several countries.
On May 14, Indian Prime Minister Narendra Modi will be a new member of this hall of fame. According to Indian media, Modi's first stop on his China trip will be Xi'an, President Xi Jinping's hometown, as well as the starting point of the Silk Road.
Recently, Modi took to Twitter to say that he was looking forward to his upcoming visit to China. "Honored that Mr. Xi Jinping invited me to Xi'an in his home province and a land associated with Xuan Zang, who visited India," he said.
According to Indian media, Modi may visit the Ci'en Temple and the Wild Goose Pagoda, where Xuan Zang, a seventh-century Chinese monk and traveler who stayed in India for 16 years to seek Buddhist scriptures, translated and spread Buddhist thought.
Without any doubt, Xi'an found favor with foreign leaders for its rich history and strong cultural atmosphere. Let's get a glimpse of the attractions in the city, following in the steps of the foreign leaders.