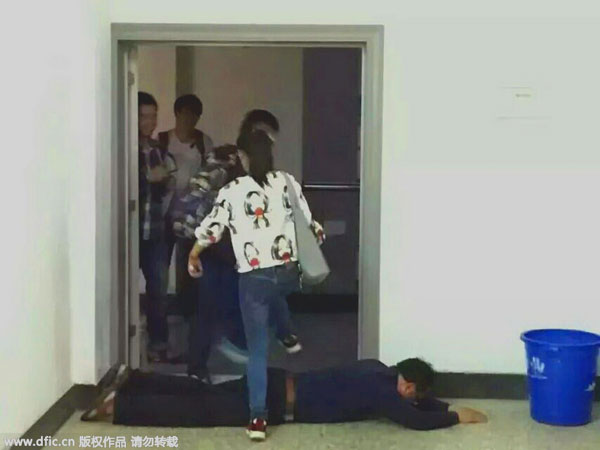 A student strides over her teacher. [Photo/IC]
Professor gets students to stride over him to free their minds
Many wise men stress the importance of emancipating the mind and daring to say no to authority. However, Chinese students are used to obeying authority. In order to free his students' minds from this mentality, a Chinese university professor resorted to an unusual and creative method.
More than 100 students were encouraged by their teacher, Associate Professor Zhang Nengli, to stride over himself as he lay on the floor in front of a doorway after class in Wuhan University of Technology, according to Wuhan Evening News on Wednesday.
Zhang Nengli told the reporter that the exercise aimed to help students overcome the fear of refuting authority, which is rooted in Chinese culture. Zhang hopes his students can be the ones who dare to throw eggs on Barack Obama when he does something wrong.
Students were appreciative of their teacher's initiative. An anonymous student said he is proud of having such a creative and independent teacher.
Speaking of using a teacher's authority, a math teacher makes students count rice as an exercise in our next story.