Editor's note: Every Monday we look back at the action-packed weekend so that you don't miss out on the tiniest detail and provide a guide of who and what to watch out for during the week ahead. We also track hottest transfer gossips as the major league season comes to the end.
Matches to watch this week
Champions League semi-final, second leg: Bayern Munich v Barcelona
2:45 am Wednesday (Beijing Time)
First leg result: Barcelona 3, Bayern 0
Featuring the return of ex-Camp Nou darling Pep Guardiola and a phenomenal Messi who broke the Internet with his superb double, the first episode of Bayern-Barcelona drama didn't disappoint.
Though Barca seems to be the more favorable side now with three goals leading, the pressure is on both sides.
The Catalan giant is more aware of their German counterpart's ability than any other side as the Bavarians knocked them out in their previous semi-final encounter in 2013 with a seven-goal difference.
This season fans have witnessed the German domestic champions explode on their home soil to thrash Porto 6-1 in a robust second-leg comeback from their 3-1 defeat in an away first leg.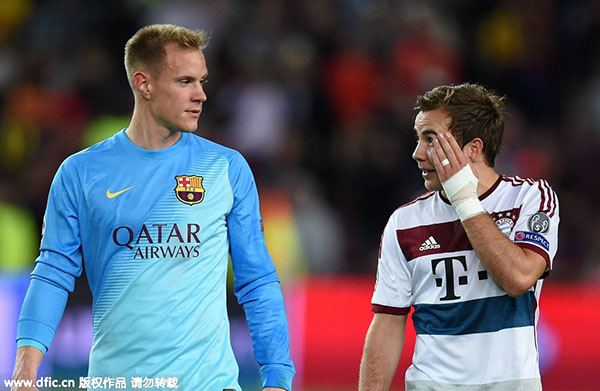 Bayern Munich's Mario Götzetalks with Barcelona goalkeeper Marc-André ter Stegen during the Champions League semifinal first-leg match at Camp Nou in Barcelona in this May 6 file photo. Barca defeated Bayern 3-0. [Photo/IC]
How big can the stress be? Even a minor detail of a footballer's behavior can be magnified and overstated.
Bayern Munich ace Mario Götze came under fire as he was seen talking and laughing with his German countryman and Barca goalkeeper Marc-André ter Stegen following Bayern's 3-0 concession at Camp Nou.
The midfielder was forced to address the issue on his Facebook page in a long explanation after being accused of taking the defeat lightly.
Following the Gozte twist, there has been no clue showing a major man from either side cracks under the pressure, but the duo's respective official Twitter accounts became the latest victims.
A war of words has been traded on the social-networking site as their unanimous solution to vent pre-match tension.