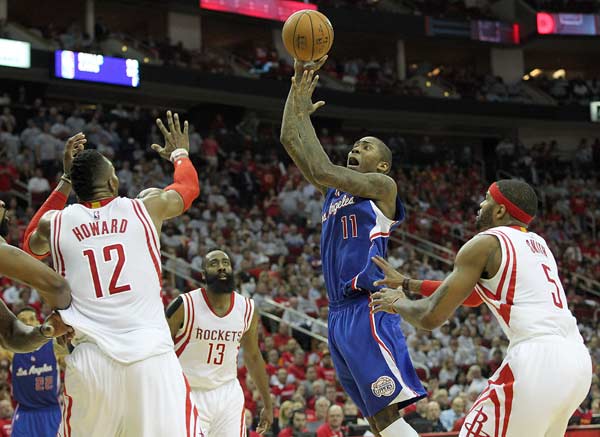 Los Angeles Clippers guard Jamal Crawford (11) splits the defense of Houston Rockets center Dwight Howard (12) , guard James Harden (13) and forward Josh Smith (5) in the second half in game one of the second round of the NBA Playoffs at Toyota Center in Houston, May 4, 2015. Los Angeles Clippers won 117 to 101. [Photo/Agencies]
HOUSTON - Blake Griffin recorded a triple-double and received plenty of support in the absence of Chris Paul as the Los Angeles Clippers claimed a 117-101 road victory over the Houston Rockets in Game One of their Western Conference semi-final on Monday.
With Clippers point guard Paul sidelined by a strained left hamstring, the Clippers rode balanced scoring and the Rockets' benevolence to a 1-0 lead in the best-of-seven series.
Griffin, the Clippers' star power forward, finished with 26 points, 14 rebounds and 13 assists. Guard Jamal Crawford scored 21 points off the bench and forward Matt Barnes added 20 points on 8-of-11 shooting.
The Paul-less starting backcourt of J.J. Redick and Austin Rivers combined for 34 points and the Rockets committed 23 turnovers, resulting in 34 points for the Clippers.
Center Dwight Howard posted 22 points and 10 rebounds while guard James Harden tallied 20 points and 12 assists but also had a game-high nine turnovers.
Houston forward Trevor Ariza scored 11 of his 17 points by the midpoint of the first quarter. Otherwise, Houston did little offensively.