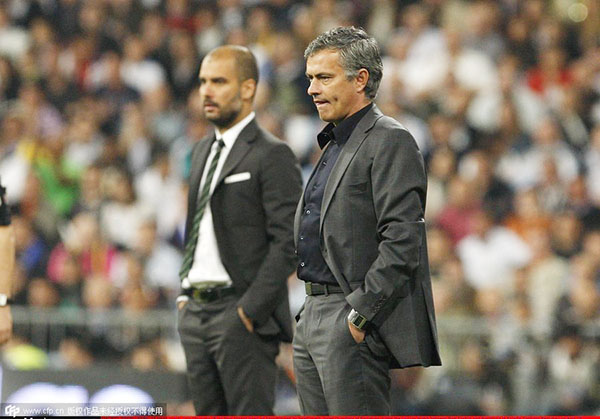 Then Real Madrid coach Jose Mourinho looks on besides then Barcelona coach Pep Guardiola during their La Liga match between at Estadio Santiago Bernabeu in Madrid in this April 16, 2011 file photo. [Photo/CFP]
If Guardiola does take the Manchester City job next season, here is some heads-up for what awaits him.
Guardiola, the former Barca coach, will renew his rivalry with Chelsea manager Jose Mourinho, who used to take the helm of Real Madrid, in a repeat of El Clasico adversity.
In Manchester derby, Guardiola will reunite with former mentor Luis van Gaal, current United manager. The triumvirate of Van Gaal, Guardiola and Mourinho will form a bond with their Spanish La Liga experiences.
Manchester City is generous on transfer spending, because they want more than a Premier League title they have conceded to Chelsea this season. Guardiola has to weigh Champions League on his back
It remains questionable whether Guardiola can adapt his exquisite tiki-taka tactics to a more fierce, straightforward playing style in England, which hasn't changed much though an increasing of influx of Spanish and Portuguese-speaking players have added subtlety.
Despite the all-winning "dream team" the Catalan created in Barca, skeptics insist that he wouldn't be so successful out of the club. The City job can be a chance for Guardiola to prove himself.