Premier League: Liverpool v Crystal Palace
0:30 am on Sunday (Beijing Time)
It will be Steven Gerrard's last match at Anfield.
Though Liverpool's top four hope falls short, the match still matters for Anfield loyalists who are set to wave a proper and emotional goodbye to their Stevie G.
The Reds' captain will move to US club Los Angeles Galaxy at the end of the season.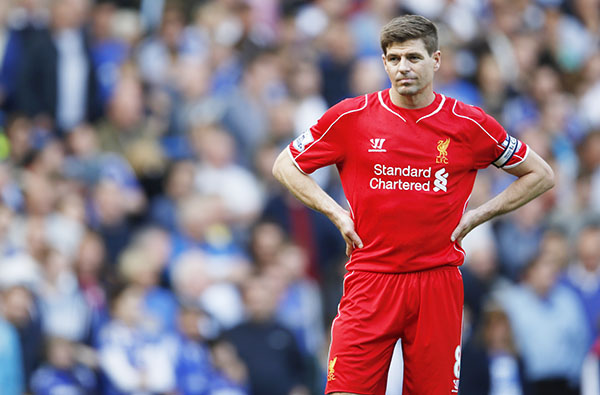 Liverpool's Steven Gerrard looks dejected during their Premier League soccer match against Chelsea at Stamford Bridge in London, May 10, 2015. [Photo/Agencies]
The Liverpool captain headed home an equalizer to draw 1-1 with Chelsea on the weekend after Chelsea talisman John Terry scored in the first half, marking a fair end to the decade-long Red-Blue adversity.
This time he didn't repeat last season's notorious slip that cost Liverpool their first League title since 1990, but his singlehanded brace was still not lift a non-performing Liverpool to Champions League qualification.
The Liverpool legend famously turned Jose Mourinho's offer to join Chelsea during the Portuguese's first stint at Stamford Bridge.
Gerrardis not the only veteran leaving England this summer. Former Chelsea hardcore Frank Lampard will start to play for New York City FC next season.