Every Monday we take a look back at the action-packed weekend so that you don't miss out on the tiniest detail and provide a guide of who and what to watch out for during the week ahead.
Matches to watch this week
DFB Pokal semifinal: Bayern Munich v Borussia Dortmund
2:30 am Wednesday (Beijing time)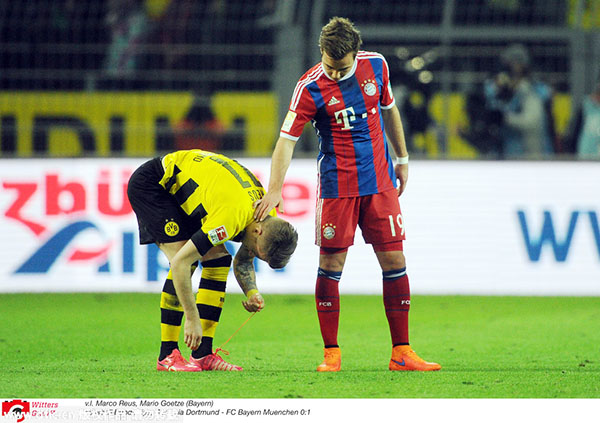 Bayern Munich's Mario Götze, right, consoles Borussia Dortmund's Marco Reus during their Bundesliga match at the Westfalenstadion Stadium in Dortmund, Germany, in this April 5, 2015 file photo. [Photo/IC]
If you are looking for one match to stay up late for - few are so radical as to lose sleep for all major European league matches - this one is highly recommended.
A high-flying Bayern with its 25th Bundesliga title assured is also marching on in the Champions League as a semifinalist, while a fragmented Dortmund tags along with an outgoing head coach, poor morale due to the possible departure of key players and a sloppy first-half of the season ending up in the relegation zone.
Being the host also gives Bayern a psychological edge.
Despite all the drawbacks, Dortmund craves victory, which would take them to the final on May 30, far more than their southern adversary before saying a proper goodbye to coach Jürgen Klopp, set to leave at the end of this season, pacifying the Westphalian loyalists.
The face-off will be crucial for certain Dortmund players who, if transfer rumors are true, want to leave something for fans to remember before moving to other clubs this summer.
To name just a few, winger Marco Reus has long been the target of heavyweights across Europe such as Barcelona, Real Madrid and Manchester City, while Manchester United is said to have approached defender Mats Hummels and midfielder Ilkay Gündogan.
Bayern, however, is also expected to be at full throttle as the Bavarians under the stewardship of Pep Guardiola are keen to repeat their 2013 treble of European, league and cup titles.
Westphalia's ex-darlings Mario Götze and Robert Lewandowski, now valuable parts of Guardiola's formation, also add spice to the already bitter north-south rivalry.