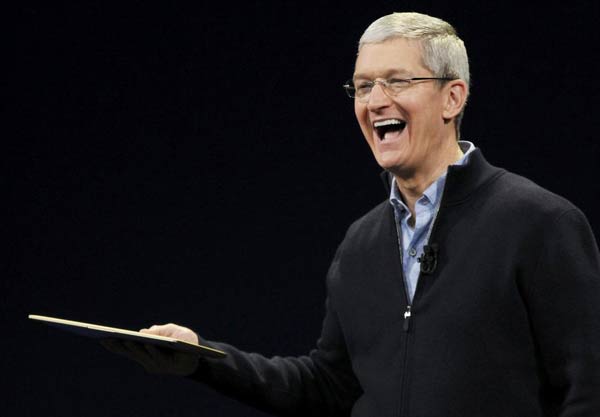 Apple CEO Tim Cook shows the new MacBook during an Apple event in San Francisco, California March 9, 2015. [Photo/Agencies]
BEIJING - Apple CEO Tim Cook began his China visit Monday with a new environmental initiative -- to protect as much as one million acres of managed working forests in the country through World Wildlife Fund partnership.
The project is Apple's largest project of its kind in the world and may help save both managed and non-managed forests, said Cook in an exclusive interview with Xinhua upon arrival.
The multi-year project help make pulp, paper and wood products more sustainable and the high-tech giant's expanding renewable energy and environmental protection initiatives in China. Apple began developing it last year.
"The environmental issue is very important in China," said Cook.
He said Apple has been looking closely at Chinese President Xi Jinping's objectives, and aligning what Apple is doing to meet China's objectives.
"This area is one where we can make a significant contribution," said Cook, adding that Apple is in a unique position to lead in the subject because of its expertise, passion, and employees' skills in the area.
Apple has vowed to achieve a net-zero impact on the world's supply of sustainable virgin fiber and power all of its operations worldwide entirely on renewable energy. Currently 87 percent of its global operations run on renewable energy.
Apple is now successfully running all its data centers, usually an enormous user of energy, on 100 percent renewable energy.
The forestry program aims to manage wood resources, to make them renewable and ensure that forests don't get lost to development.
The concept is not widely spread worldwide though, and it is rare for a private company like Apple to get involved.
Cook said very few companies focus on the product they make after it is shipped to the customers in terms of environmental concerns. But this is an area where Apple pays a lot of attention because it helps customers cut carbon footprints.
"We don't advocate, that is not our responsibility," said Cook, "by the same token, we focus on the manufacturing of the product, not just the final assembling, but all the way back to the raw materials."