Four month after the flagship model Mi Note was first introduced to the public, Chinese smartphone maker Xiaomi launched its high-end handset at a media event in Beijing on Wednesday.
Equipped with Qualcomm's fastest mobile chip Snapdragon 810 processor, the phone is priced at 2,999 yuan ($483), 300 yuan lower than its previous price tag.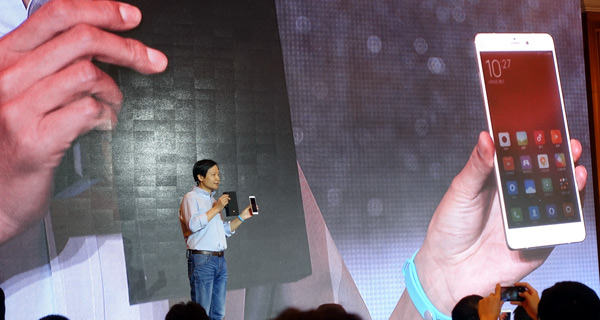 Lei Jun, founder and CEO of Xiaomi Technology Co Ltd, introduces Mi Note Pro to Chinese technology reporters on May 6, 2015 at a media event held in Beijing. [Liu Zheng/chinadaily.com.cn] 
"We've continued to revise our pricing strategy, which is now closest to our production cost," said Lei Jun, founder and chief executive officer of Xiaomi Technology Co Ltd, at the function.
With 2.5D glass on the front, curved glass on the back and aluminum alloy frame, the Mi Note Pro features a 5.7-inch Quad HD LCD display, a Snapdragon 810 processor, 4GB of RAM, 64GB of internal storage, a 13MP camera, a 3090 mAh battery, and LTE category 9.
The device has also added features like Sunlight Display technology, which allows the screen to automatically adjust contrast ratio based on the ambient light, Quick Charge 2.0, and hardware-optimization for Hi-Fi audio.
"The Mi Note is drop-dead gorgeous, like something I'd expect to see from Apple," said Lei Jun, citing a sentence written by Walt Mossberg, former principal technology columnist for The Wall Street Journal, in product review on technology website recode.net.
According to Mossberg, after testing the device both in China and in the US, he found it to have the kind of quality and beauty that makes it a worthy rival to the best and latest models from Apple and Samsung — but for much less money.
The smartphone will go on sale on May 12 both on the company's website and its 29 physical stores, "Mi Home", which are built around main cities in the Chinese mainland.
So far, there has been no public statement by the company on the availability of the new device in other countries.
The price war is about to get nastier as more products and heavyweight enter the crowded smartphone market in China.
On the same day of the launch of Mi Note Pro, Nubia Z9 Max and Mini manufactured by Chinese technology giant ZTE Corp were introduced to the public.
A new smartphone firm, named Qiku, in a joint venture with NYSE-listed Qihoo 360 Technology Co Ltd and Coolpad Group Ltd, a major contract smartphone maker in China, also appeared on the scene on Wednesday.
The new brand will unveil three types of handsets running a tailored Android operating system as soon as next month, said China Daily.
According to IHS Technology research, China's smartphone market volume reached 99 million units in the first quarter of 2015, down 5.6 percent from the previous quarter. However, Xiaomi continues to hold leadership position in the market with 14.2 million units sold in China.
Out of 99 million units shipped, Xiaomi enjoyed 14 percent market share in sales. Huawei and Apple are in second and third place with each grabbing 11 percent share.
Meanwhile, according to Hong Kong-based South China Morning Post, the company will open its physical service space "Mi Home" in Hong Kong, as it looks to build up its presence in a market dominated by Apple and Samsung, citing Hugo Barra, vice president of Xiaomi Global and a former senior executive at Google.
Overseas markets currently account for about 5 percent of Xiaomi's global sales, but that figure is expected to reach 20 percent this year.
In February this year, the company announced plans to launch an online store in the US to sell a selection of smaller branded products such as smart wristbands, headphones, air purifiers and mobile power chargers.
In April, Xiaomi launched Mi 4i priced at $205in Delhi, India.
Currently, the company sells its phones in India, Singapore, Malaysia, the Philippines and Indonesia.