In November 2014, Russian president Vladimir Putin presented the Russian-designed and Chinese-manufactured YOTAPHONE 2 to President Xi Jinping as the symbol of cooperation between Russia and China in the field of the consumer electronics.
The Chinese mainland version of the phone is priced at 4,888 yuan ($799), said Jenny Zhao, Marketing Communications Manager China of Yota Devices.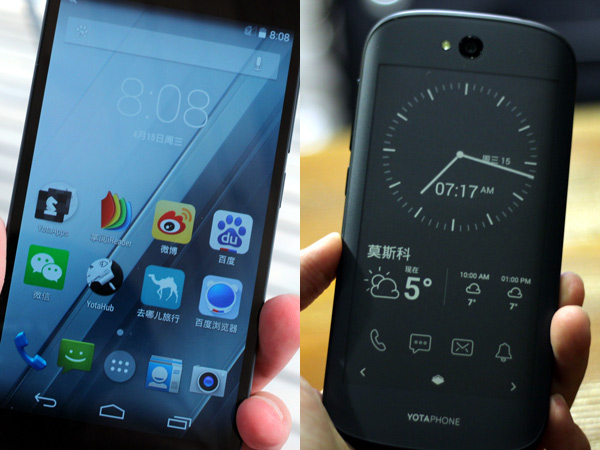 Photos taken on April 15, 2015 show the Front (left) and back of the YotaPhone 2 [Liu Zheng/chinadaily.com.cn]
The pre-sale of the Chinese version YOTAPHONE 2 will be launched in early May. Distributers can now make orders and apply for distribution through woego.com, China's largest B2B platform owned by China Unicom, said Zhao.
We at China Daily, have received a review device from the phone maker. As the first media outlet to spend time with the Chinese version of YOTAPHONE 2, we present an exclusive hands-on review on the world's first dull-screen smartphone:
Glancing at the primary screen of YOTAPHONE 2 it's easy to mistake it for another Android device. A 5-inch, Full-HDSuper AMOLED display is not a new to Chinese users. Many companies have already incorporated such screens on their phones.
However, according to Lev Kassil, a marketing director for Yota Devices, "The devil is in the details."
Unboxing the black paper package, three separate sections appear. All the components, from the phone to the accessories such as the charger, USB cable, earphones, SIM ejector pin and even the cover of the introduction, are all in black. The color schemes provide a high-end level feel to the device.
There are no decorations or physical buttons on the front screen, the "YOTAPHONE" logo is designed to show on the bottom of the reverse side, which indicates that, key features are present on the secondary screen of the phone, the widely discussed 'always on EPD-display'.
Electronic paper display
Flipping the phone over reveals the e-paper display which uses zero power unless it is refreshing to receive new information. (The transition from the primary screen to the 4.7 inch EPD is shown in the video located at the beginning of this story.)
Using the EPD screen for reading is an obvious advantage and the YotaCover app allows users to set personal pictures as phone wallpaper. Yota Mirror is a feature that lets you mirror anything you're doing on the main AMOLED screen on the back.