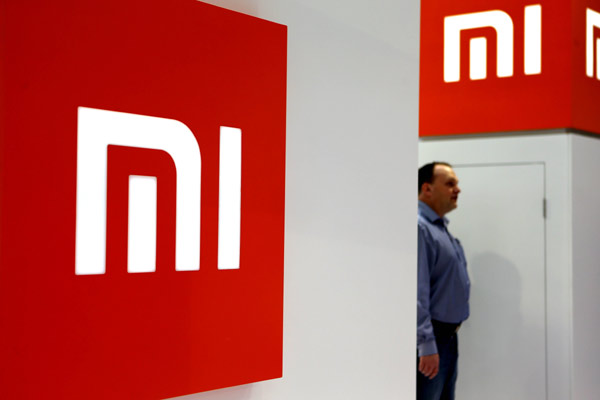 The logo of Xiaomi Corp at a recent IT expo in Hanover, Germany. The mobile phone maker is trying to enter China's Internet finance sector. [Photo/Xinhua]
Xiaomi Corp, China's rapidly rising mobile phone maker, is beta testing a money market fund service, signaling a strong ambition to expand in the country's booming Internet finance sector.
Lin Bin, co-founder and president of the Beijing-based tech giant, said on Tuesday that it is testing a mobile app that allows users to buy money market funds offering higher interest than typical bank saving accounts.
Lin refused to reveal the timetable of the official launch of the app, being named Xiaomi Wallet, but said that many financial institutions had teamed up with the company for its test.
The wallet function is similar to Alibaba's Yu'ebao, an online wealth management service introduced in mid 2013.
Anyone linking their debit cards to Yu'ebao can buy wealth management products with no minimum deposits and no transaction fees.
The first of its kind which directly sells money market funds online, Yu'ebao has expanded rapidly to become China's biggest money market fund with assets under management worth 578 billion yuan ($93 billion) by the end of 2014.
Despite the huge potential, Lin said Xiaomi has no desire to get into the banking business but merely wants to offer a new service to its customers.
James Yan, an analyst at International Data Corp, a global market intelligence firm, said adding a money-making service app to its offering is a natural move for Xiaomi.
"Xiaomi has more than 100 million users. It is important to boost user loyalty by offering more one-stop services," said Yan, adding Xiaomi is likely to expand into other areas of Internet finance in future.
Industry sources suggest that Xiaomi is busy recruiting a team of specialists to handle its expansion into the finance and credit management sector, and that the company has already filed an application for a third-party payment license to compete primarily against Alibaba's Alipay, the largest mobile payment tool in the sector.
A spokesman for Xiaomi refused to comment on both possible developments, confirming only that the mobile wallet product is at the beta-testing stage, a test for a tech product prior to commercial release.
Wang Weidong, an analyst with Internet consultancy iResearch Group, said: "A lack of talent and experience in financial services is the biggest challenge faced by Xiaomi.
But the company has every reason to expand into the sector.
"Xiaomi is a device maker with a large user base. It would be easy for the company to launch any new services because it has already got the distribution channel," said Wang.