Smartphone maker will not expand into other sectors, insists chairman, amid diversity rumors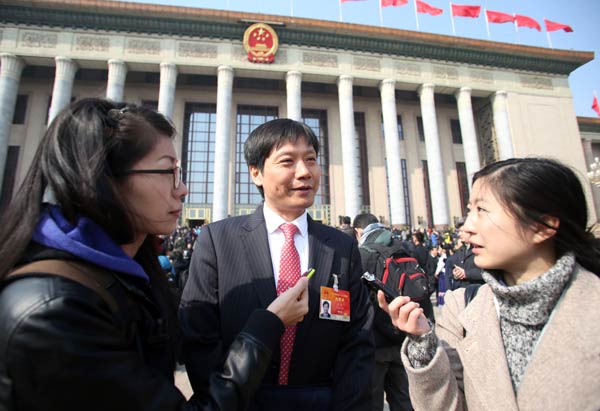 Chairman of Xiaomi Corp Lei Jun answers reporters' queries outside the Great Hall of the People in Beijing on March 5, 2015. Lei is attending the annual NPC session. [ZOU HONG/FOR CHINA DAILY]
Xiaomi Corp, a leading Chinese smartphone and TV accessories maker, said on Thursday that it would continue to focus on growing its core businesses and ruled out plans to diversify into other sectors.
"We will rely on our main businesses-smartphones, TV accessories and routing devices-to maintain growth," said Lei Jun, founder and chairman of Xiaomi.
Lei, also a deputy to the National People's Congress, which opened in Beijing on Thursday, made the remarks in response to speculation that Xiaomi would enter other businesses like home decoration and real estate.
"We are not associated with the home decoration and real estate businesses. Some companies have been using Xiaomi's development mode to tap these sectors," said Lei.
A startup company, which Lei did not identify, used Xiaomi's business model to enter the home decoration industry, he said.
"The company is following our business model, and it has proved effective in profit generation. But I have to reiterate that the business has nothing to do with Xiaomi," Lei said.
Xiaomi, which incorporates users' feedback into its product range, sells products directly to its customers to remain competitive in the smartphone sector.
Lei said he changes his mobile phone every week, so as to gauge fresh perspectives as a smartphone customer.
"I am in the phone-making business. Hence, it is very important to make our products better by incorporating experiences of all the latest smartphones," said Lei.
Lei was seen showing Xiaomi's latest phone, Xiaomi Note, to reporters before he entered the Great Hall of the People for the opening of the annual NPC session.
According to Lei, Xiaomi would not be engaged into other businesses such as electric cars for the next five years.
"It is a tough task to diversify business for a startup company, which should concentrate on its core business for growth," said Lei.