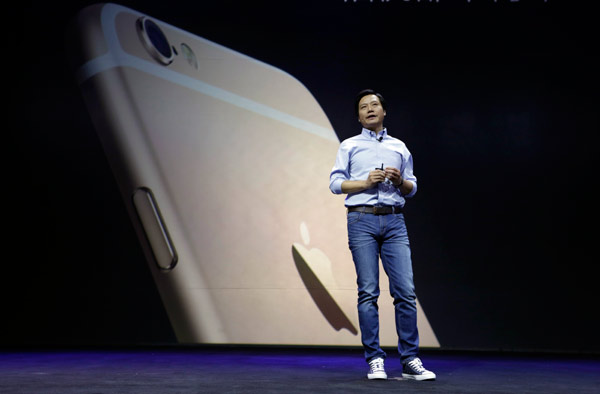 Lei Jun, founder and chief executive officer of Xiaomi Corp, speaks in front of a screen showing an image of an iPhone 6 Plus at a launch ceremony of the Mi Note in Beijing on Jan 15. Jason Lee / REUTERS
On most iPhones sold around the world, there is a thin line of production information embossed on the lower back that reads: "Designed by Apple in California. Assembled in China."
China, the world's largest smartphone manufacturer, is striving to contribute more in the design part instead of being bogged down by tedious outsourcing deals and knockoff businesses known for narrow profit margins and intense labor conditions.
Xiaomi Corp, a four-year-old startup headquartered in Beijing, is eagerly expecting to shake off the title as "the world's best iPhone copycat" and build its own legend in design and innovation.
After the company announced staggering sales of 61 million handset units for 2014 earlier this month, the viewpoint that Xiaomi stole Apple Inc's China market share by making similar-looking but considerably cheaper devices emerged again.
But according to Lei Jun, co-founder and CEO of Xiaomi, the company's success was based on in-house innovation and a unique relationship with its customers.
"We have to consistently focus on product innovation, emphasize making friends with our users, and strive to produce high-quality, high-performance devices which ensure great user experience," Lei says in a year-opening letter to his employees.
At one point he defended the research and development team, saying Xiaomi — like Apple — is also a victim of copyright violations.
"Currently, the level of research and imitation of Xiaomi's model by industry peers is as detailed as studying pixels in a picture," Lei says.
At Xiaomi's development center in the northern suburb of Beijing, 1,800 developers, many aged around 30, are busy updating the MIUI, an intricately tailored Android operating system for Xiaomi devices.
Eric Chen, who is starting his second year at Xiaomi as a software engineer, says working on a smartphone that is one of the hottest topics in the industry excites him.
"It makes no difference for me to work for a local company or a foreign one. The salary is okay here," says Chen, who used to work for a top-tier overseas smartphone brand.
"As long as the company is passionate about new ideas, it is a good place to work for an engineer," he says.
Chen, 28, recently moved to a rented apartment near the company to avoid heavy morning traffic but it still takes him about half an hour on the bus to the office.
"I can take the inconveniences. I like working at a startup that's compared to Apple."
The Xiaomi devices, especially a fourth-generation flagship handset, do share a number of common design elements with the iPhone 5S. Most remarkably the stainless steel bezel and the position of volume buttons on the side.
But it was clear Xiaomi intends to be different to the iPhone series both inside and out.
Similar to other hardware makers, Xiaomi reached out to global supply chain providers for higher performance-to-cost ratio cameras, batteries, touch screens and even screws.
When Xiaomi was making the device in early 2014, the developers worked with supply chain providers for more than 18 months to make a touch screen with a greater color range than the iPhones. It also tried more than 100 back-case designs in different materials including bamboo, marble and ceramics.
"We have to outperform Apple in some areas. It showcases the rising power of Chinese innovation and creativity," Lei says.
The biggest innovation breakthrough came from the software and user experience.
The MIUI can automatically block scam calls while putting through calls from delivery services using a constantly updated phone number database. Xiaomi is also building a number of deeply localized services in China such as free wireless Internet connections in at least 50,000 restaurants or train stations.
Tian Zheng, a senior analyst at research firm Analysys International, says Xiaomi's ambitious attempt to build a wider ecosystem in the online media, smart home and other markets using the smartphone advantage, is what makes the company stand out in the sector.
Analysts said Xiaomi is poised to outpace Samsung Electronics Co to become the top smartphone maker in China by shipments. According to Tian, the company already achieved this at the end of 2014.
Xiaomi launches a flagship device every six months, but the development unit works at a much shorter circle: When Lei unveiled the fourth-generation device in July, the design of the fifth, launched on Jan 15, was already underway.
Different strategy
Other local vendors are also making bold moves to boost innovation. Different from Xiaomi which started from scratch, they focused on assets accumulated years ago.
ZTE Corp, which is already a 25-year-old telecom equipment giant, thinks voice-control is the future of smartphones.
Last year, the Shenzhen, Guangdong-based company joined hands with search engine Baidu Inc and navigation leader AutoNavi to push Chinese-language recognition technology and used it in the company's latest handsets.
Shen Zhenge, vice-president of ZTE, says innovations in the mobility sector is the key to the next multi-billion-dollar market.
"We are building a lab developing next-generation technology that underlines features such as mobility, environmental friendliness and sustainability," Shen says.
The lab will provide technical support to various industries including mobile communication, wireless charging and smart homes, he says.
Although the company did not disclose the R&D budgets of the lab, Shen says ZTE spends around 10 percent of its annual revenue in product development.
It now hosts 26,000 developers in 18 innovation centers around the world. Most are doing telecom-related developments such as the fifth-generation technology.
Acquisition is another strategy for Chinese smartphone players to quickly lift innovation capability.
The latest buyout was made by appliance maker TCL Communication Technology Holdings Ltd. It announced this month it would purchase California-based smartphone maker Palm Inc from
Hewlett-Packard Co for an undisclosed amount.
Wang Jingwen, an analyst from consultancy Canalys China, says using the development force of Palm will help TCL open the developed markets in the United States.
Motorola Mobility LLC, who purchased by Chinese computer maker Lenovo Group Ltd a year ago, also announced global expansion plans taking advantage of its R&D team.
"Lenovo has access to a large patent portfolio, which will be very useful for vendors' overseas expansion," Wang says.