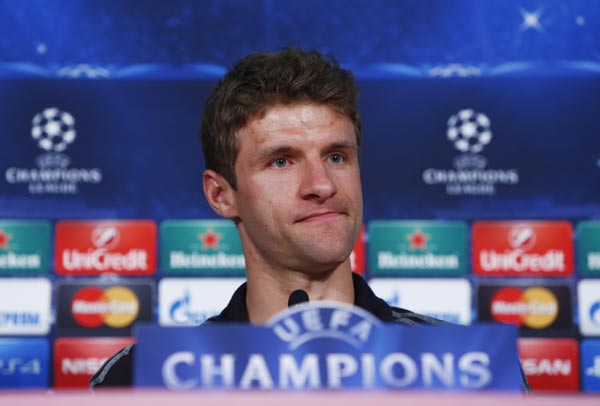 Bayern Munich's midfielder Thomas Mueller says his team could still beat Barcelona during the press conference in Munich, Germany, May 11, 2015. [Photo/Agencies]
MUNICH - Thomas Mueller believes Bayern Munich can make a statement to the footballing world by surmounting their three-goal deficit to beat Barcelona in Tuesday's Champions League semifinal.
Bayern left themselves with a mountain to climb in Munich in order to reach the June 6 final in Berlin after losing last Wednesday's first leg 3-0 at the Camp Nou.
Having already turned over a 3-1 first-leg defeat to triumph 6-1 against Porto in the quarterfinals, Mueller believes Bayern can again pull off the unlikely and shock the Spanish league leaders.
"I wouldn't say that we need a miracle," said 25-year-old Mueller. "Since we left the Camp Nou we have wanted to make up for it.
"If we go through, it will be a statement which the football world didn't expect.
"Whether or not that could be classed as a miracle is up to you, but in football, many things are possible. That's why there's still hope and we still believe in ourselves.
"We're in a similar position to when we were sat here two weeks ago.
"We can't expect things to go like they did against Porto, but that's what we need."