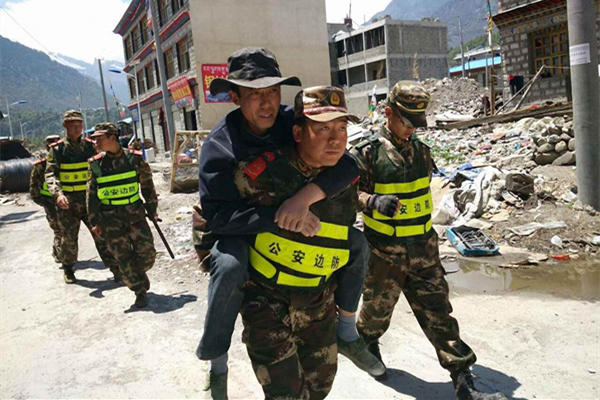 A border patrol officer carries a man injured in Tuesday's magnitude-7.3 earthquake to a medical facility in Jilong county, the Tibet autonomous region. A woman was killed and two other people were injured in Tibet in the quake. [Photo by Zhang Xun/China Daily]
One woman was killed and two other people were injured in Tibet after China's neighbor Nepal was jolted by another earthquake on Tuesday afternoon.
All three were all in a car that was hit by falling rocks in the township of Gyirong, Tibet, when the magnitude-7.5 quake struck at 3:05 pm.
The deceased has been identified as Chodron.
According to Karma Tenzin, a border inspection officer, Chodron was local to the area. The two injured are undergoing medical treatment.
Xinhua reporters in Gyirong saw landslides on both sides of the border, accompanied by loud noises.
Wu Aijun, a police officer in the township of Zham in Nyalam County, saw rocks rolling off the hills. "Roads were cut off by debris from landslides," he said via telephone.
He said he could see across the border and a village in Nepal was also battered by landslides.
China evacuated thousands of residents from Zham after the April 25 quake. Police stayed behind to guard the county.
"All the police have now been evacuated. No casualties were reported," said Phurjung from the Zham Police headquarters.
In Nyalam, power was cut off and three houses collapsed.