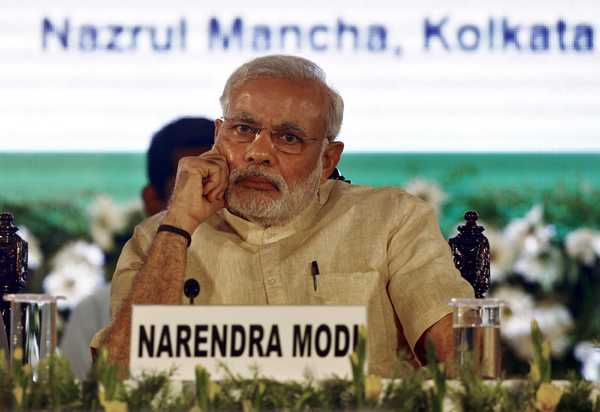 India's Prime Minister Narendra Modi listens to a speaker ahead of launching three new national social security schemes at a function in Kolkata May 9, 2015. [Photo/Agencies]
The bonhomie on display between Chinese President Xi Jinping and Indian President Pranab Mukherjee, along with Russian President Vladimir Putin during the celebrations to mark the 70th anniversary of the victory of Allied forces over Nazi Germany in World War II provides an interesting backdrop for Indian Prime Minister Narendra Modi's visit to China from May 14 to 16.
For the first time, Russian soldiers marched with units of People's Liberation Army and Indian armed forces, which reflected that the Russia-China-India strategic triangle (all three countries are incidentally members of BRICS) has gained special significance in face of the Western boycott of the celebrations in Moscow.
India's foreign policy is known for continuity rather than change. Most formulations, therefore, still continue to be grounded in the Nehruvian paradigm (the policies followed by India's first prime minister Jawaharlal Nehru) seeking peace through dialogue and steering clear of military alliances. Modi did initially seek to make a major departure from the policy, but other than his accelerated pace of foreign visits there has been no change in its content. India's power elite continues to agree that India needs to seek a fruitful engagement with China and is willing to play the role of a partner.
The completion of one year in office for Modi also marks his turnaround from the "expansionist" China rhetoric to recognizing China's "right" to seek influence. Other than joining weibo, China's Twitter-like microblogging website, Modi's interview with New York-based Time magazine last week shows he is focused on building strategic cooperation with China. To quote him: "For nearly three decades there has been, by and large, peace and tranquility on the India-China border ... Both countries are showing great maturity and a commitment to economic cooperation."
Indeed, the two countries seem to have switched sides: Modi now emphasizes that India has "learnt from history" while China wants to see "more progress" on border talks.
Despite India's growing proximity to the United States and the Strategic Vision for Asia-Pacific and Indian Ocean proposed by US President Barack Obama and Modi in January, New Delhi has been with Beijing in the launching of the New Development Bank and the Asian Infrastructure Investment Bank, as well as on several other global issues, from climate change to nuclear nonproliferation.
China, too, has demonstrated flexibility to conjoin Modi's spice route, cotton route and Project Mausam (initiative to revive India's ancient maritime routes and links with countries in the region) with Xi's "Belt and Road Initiative". China has offered to partner India in deep-sea explorations in the Indian Ocean in addition to their joint anti-piracy initiatives. The two countries may also discuss the possibility of entering into joint ventures in infrastructure construction across West Asia and Africa.
Beijing and New Delhi have also been working to resolve bilateral issues, from trade deficit and water sharing to providing visa on arrival facilities. Having promised to contribute to the revival of India's manufacturing sector with technology transfers — especially in sectors such as nuclear power, aviation, automobiles and high-speed railways — and with its initial investment of $20 billion, China could open several new avenues for India to work together. China may actually improvise on what is known in India as the South Korea model.
When former Indian prime minister Narasimha Rao visited Seoul in 1992, South Koreans and Indians did not know much of each other. This was part of Rao's experimental "look East" policy. Today, South Korean brands have become household names in India — they are also the fastest growing investors in manufacturing of automobiles and home appliances.
The fact that India's commerce and defense ministers visited South Korea earlier this year shows their relations are moving fast, beyond trade and commerce. Given these facts, China and India have enormous potential and responsibilities to help revive Asia to its lost glory.
The author is professor of diplomacy and disarmament at Jawaharlal Nehru University, New Delhi