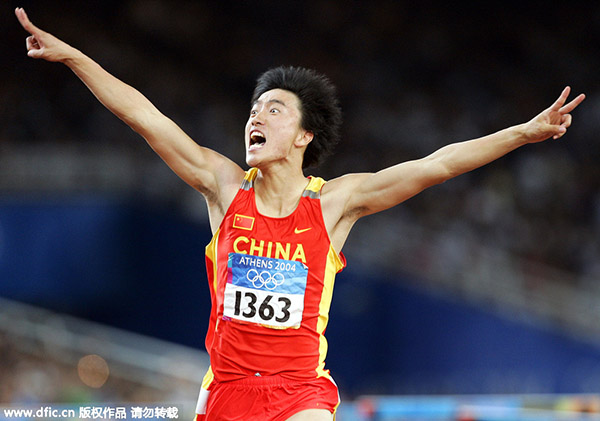 Liu Xiang celebrates as he crosses the finish line to win the men's 110 hurdles final at the 2004 Olympic Games in this Aug 27, 2004 file photo. [Photo/IC]
Star hurdler Liu Xiang's retirement, announced officially on his micro blog on Tuesday, brings to an end an era of outstanding Chinese athletes who demonstrated the country's ability to excel on the world stage.
He leaves a massive void, as no new crop of exceptional sports stars has emerged to continue the momentum that he and other greats unleashed.
Liu shared the international sporting spotlight with iconic figures such as basketball hero Yao Ming and tennis star Li Na. Their groundbreaking feats saw China standing high as a top sporting nation, but experts say such scenes may be over for the time being.
"In the next few years, there might not be any athlete who can fill the big shoes left by Liu, Yao and Li and excel as they represent China in mainstream global events," Tan Jianxiang, a sports sociology professor at South China Normal University, told China Daily on Tuesday.
"Boasting a combination of athletic prowess, international influence and marketing value, the three stars earned a level of recognition for Chinese sports at the highest level that their predecessors never achieved.
"Now that they have all retired, China's sporting leaders have to reflect on their careers and consider an adjustment to the system for developing talent to produce future stars."
Liu has been struggling to return to fitness since he pulled his Achilles tendon at the 2012 London Olympics.
He said in a statement posted on his micro blog: "I am officially retiring today to say goodbye to my beloved tracks and hurdles. It's a well-considered decision but a hard one to make. I've tried all my best to recover from the injury over the past two years since the 2012 London Olympics, dreaming that I could start over again.