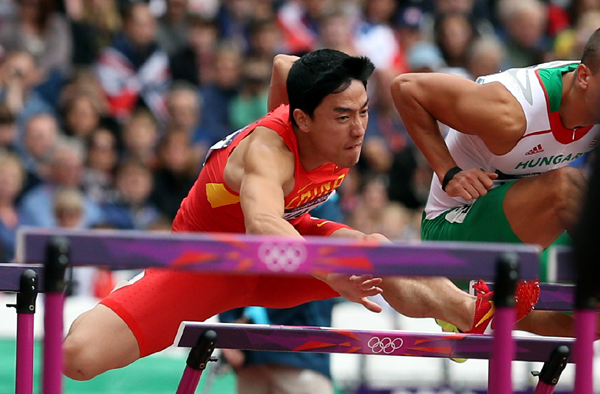 Athens Olympic champion hurdler Liu Xiang stumbles in a premilinary for the 110-meter hurdles at the London Olympics on Aug 7,2012. [Photo/Xinhua]
Liu Xiang's profile:
Born: July 13, 1983 (aged 32)
Hometown: Shanghai, China
Married: September 8, 2014
Retired: April 7, 2015 
Wife: Ge Tian
Height: 1.89 meters
Weight: 85 kilograms
Sport: 110m hurdles, athletics
Career: Joined national team in 1999
Coach: Sun Haiping

Ups and downs of a remarkable athletics career:
2001
Liu Xiang emerges on the world stage by winning the 110m hurdles at the Universiade, his first major international meeting, in Beijing, then wins again at the National Games.
2004
Wins the 110m hurdles final at the 2004 Athens Olympics, equaling the then-world record time of 12.91 seconds and setting a new Olympic record. Liu is the first Chinese man to win an Olympic gold medal in track and field.
2006
Sets a new world record of 12.88 seconds to win the Super Grand Prix in Lausanne, becoming the first Asian to hold a world record in a sprint event.
2007
Wins gold in 12.95 seconds at the World Athletics Championships in Japan to become world champion for the first time.
2008
After shouldering national expectations of a repeat Olympic victory, Liu withdraws from his first-round heat in the 110m hurdles at the Beijing Olympics after suffering a tear to his right Achilles tendon. The disappointed home crowd at the Bird's Nest stadium is left in stunned silence.
2009
After a 13-month absence to recover from injury, Liu makes a strong comeback as he finishes second at the Shanghai Golden Grand Prix in September.
2010
Liu confirms his return to form at the Guangzhou Asian Games in November by winning the final with an event record time of 13.09 seconds.
2012
Liu wins the Prefontaine Classic in the US in 12.87 seconds, matching the then-world record, albeit with wind-assistance of 2.4 meters per second.
Suffers another huge blow at the London Olympics as he pulls his Achilles tendon again while approaching the first hurdle in the first-round heat. Liu hops along the full 110-meter course and kisses the last hurdle before pulling out of the Games.
Has surgery, then starts a long rehabilitation that has sidelined him from competition ever since.
2015
Officially announces his retirement on April 7, 2015. More