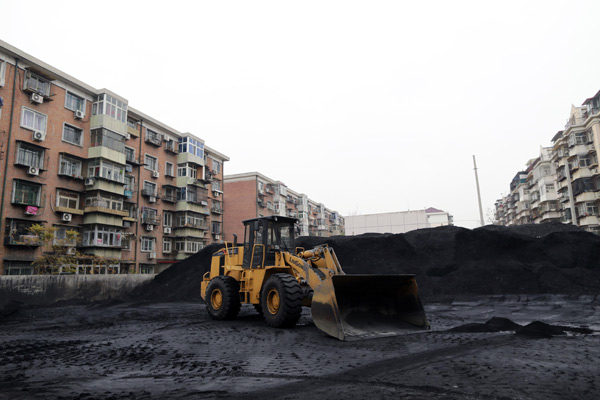 Coal stockpiled in an open space in the Yibaibeili community in Tianjin.

PHOTO BY FENG YONGBIN / CHINA DAILY 
Color of the smoke
The inspection process is two-pronged: Secret checks are conducted, but the factories are also subject to rigorous inspections attended by local officials. Factory chiefs are questioned and the team conducts spot checks of the data collated daily through online emissions' monitoring.
Secret checks are usually made during the first two days of the inspection team's visit. The local authorities are not notified in advance. The team drives to all parts of the city, looking for chimneys sending out odd-colored smoke. Photos are taken and the locations are logged in preparation for an official, open inspection, as was the case for the heating station with the excessively smoky chimney in Yibaibeili.
"Yellow fumes usually indicate a high level of sulfur, blue means fine particulate matter, and black suggests large particles. Red fumes coincide with a high concentration of powdered iron," explained Sui, sharing a few tips on how to identify the composition of emissions from coal-burning. "Usually, white smoke mainly consists of water vapor, which is harmless."
There are times when the black smoke recorded during a secret check will inexplicably change color on the day of an official inspection, turning white overnight, as happened at the heating station in Yibaibeili.
In such cases, company officials are confronted with photos of the black smoke and required to explain exactly how and why the smoke changed color so quickly. Even if the explanation is accepted, it does not always guarantee that they'll pass the inspection.
"There was an abrupt drop in temperature several days ago, so we started another boiler in response. It's normal for the concentration of emissions from newly fired boilers to be unstable initially," argued Liu Guoming, the heating station chief.
It seemed a reasonable explanation, so Sui didn't pursue the topic further. She did, however, order Liu to build a storage shed for the coal to prevent dust pollution.
"We had a shed until last year," Liu replied. "But the residents complained and said it blocked out the sunlight, so we had to dismantle it."
As the team left the heating station, Sui lowered her voice and reminded her assistant to obtain a copy of the most recent emissions report on the station, even though it had not yet been officially released.
She received the report the following evening. It showed that the level of dust discharged by the heating station was almost six times the national standard, and the level of sulfur dioxide was 12 times higher.
The report was accompanied by news that the district-level environmental protection bureau, under whose jurisdiction the station falls, had imposed a fine of 100,000 yuan ($16,450) because of the high concentration of pollutants in its emissions.
"The local officials acted swiftly," said Sui. "The fine was pretty big for a heating station, and that shows how serious we are about cleaning up the air."
Contact the writer at wuwencong@chinadaily.com.cn