Rhythm of music from Africa sets warm tone
Updated: 2014-05-09 07:20
By Chen Nan (China Daily)
Comments
Print
Mail
Large
Medium
Small

Cultural exchanges become more frequent as countries draw closer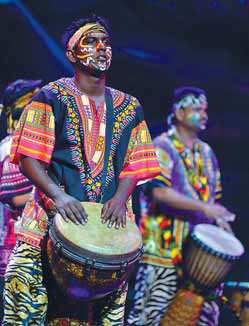 Drummers from Africa perform at a cultural event in Kaili, Guizhou province. African music continues to have an influence worldwide across many musical genres. Chen Peiliang / for China Daily
For many Chinese audiences, Zhu Mingying, a veteran singer from the China Oriental Song and Dance Ensemble, was the artist most responsible for introducing them to the vibrant beat and color of African music and dance back in 1979.
Zhu, adorned in flowing costumes, became synonymous with traditional African songs.
She credits former Premier Zhou Enlai as her inspiration after he visited the ensemble in the 1960s and called on the singers and dancers to be "more than just artists but also diplomats".
Zhou - who called for the establishment of the ensemble in 1962 - hoped to see cultural exchanges between China and Africa being promoted by the ensemble's performances. Zhu, who graduated from
Beijing
Dance Academy in 1966, decided to add a fresh element to the troupe's routine.
"At that time, China had been tightly closed to the outside world for decades. People were eager to learn new things and ideas," Zhu said.
"Since I had studied dance for many years, I knew singing and dancing together would be more interesting than simply singing. Moreover, it offered a new experience for the audience to see a Chinese singer imitating Africans in performing their art."
The establishment of modern Sino-African relations dates back to the late 1950s when China signed trade agreements with Algeria, Egypt, Guinea, Somalia, Morocco and Sudan. Zhou embarked on a 10-country tour of Africa between December 1963 and January 1964.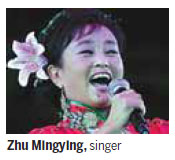 The opening of Sino-African relations also inspired scholars to explore the new musical world of the continent. Li Xin, a professor from the Central Conservatory of Music, started researching African music more than 10 years ago. What attracted him most was the vitality and variety of its music.
"When you actually go to Africa, you will see and feel how closely music and life connect and influence each other," he said.
Li was invited by Akin Euba, a professor and contemporary Nigerian composer and musicologist, to give a speech on Chinese research into African music at Cambridge University in 2003.
They organized an international symposium on African music in Beijing in 2005 and 2007, with African music workshops, lectures and concerts. This led to an even greater influx of international specialists in African music.
Professor Kimasi Browne, from Azusa Pacific University in California took up residency at the Central Conservatory of Music for several months.
Drummer and professor Pascal Younge from Ghana, went to Beijing with his wife, who is a dancer, in 2005, and taught students how to play African drums and perform traditional dance.
"African music has a long history and it's still influencing musicians today worldwide in different genres, such as rock, jazz, blues and pop. It's timeless," he said.
"What's also interesting about African music is the use of many musical instruments that are not used elsewhere," Li said. "These instruments provide an invaluable link with local culture and society."
"In Africa, friends gather together after dinner to sing and dance, as people in Beijing might go to coffee shops or cinemas," he said.
According to Li, people are still curious about African music. In Beijing and Shanghai, there are studios that teach African drum and dance.
chennan@chinadaily.com.cn