The merits of migration flows
Updated: 2014-04-25 09:21
By Cecily Liu (China Daily Africa)
Comments
Print
Mail
Large
Medium
Small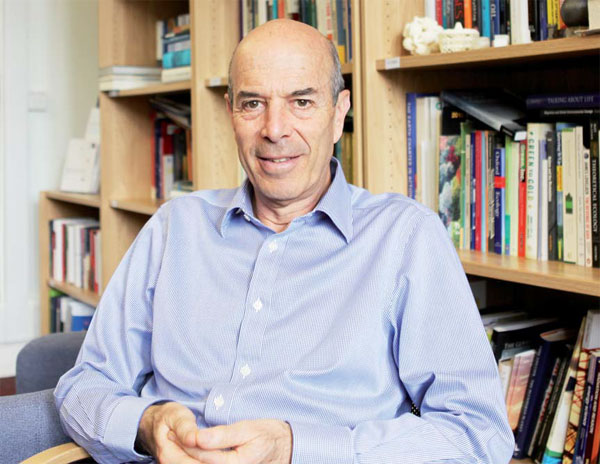 Ian Goldin, professor at the University of Oxford, says Chinese policies have made work visas more accessible to African migrants. Cecily Liu / China Daily
Africans can bring huge economic, social benefits to China, says top academic
Migration flows between China and Africa have made a defining contribution to the growth and development of both economies, says Ian Goldin, professor of globalization and development at the University of Oxford.
Goldin, who is also director of the Oxford Martin School, a research community of more than 300 scholars working across disciplines to address the most pressing global challenges, says Chinese policies have made work visas more accessible to African migrants and this is much better than Western countries' policy of restricting such visas.
"It's very important that China accepts migrants from around the world, especially Africans," he says, adding that it is important for China to treat African migrants in the same manner they would like to be treated in Africa.
"This two-way street approach is very important. All the evidence shows that migrants become catalysts for investment and economic opportunity. When they go home, they take new investment opportunities with them, so the more migrants you have, the more economic exchanges you have," Goldin says.
In contrast to the reasonably straightforward access to the migration opportunities that the Chinese government gives to Africans, European governments are making migration rules increasingly stringent, which Goldin says is detrimental to Europe's economy.
"Europe need many millions of migrants (in a few decades' time), and that's clear from the demographics and economics. The impact of not having migrants will be important in 10, 20 or 30 years' time, but politicians make short-term decisions which they think will get them reelected," he says.

Goldin's views were featured in the 2012 documentary film The Africa China Connection by Dutch filmmaker Pieter van der Houwen, which followed closely the lives of several African migrants in the southern Chinese city of Guangzhou.
The migrants in the film all worked in small businesses such as clothing and wigs, but have in their small way contributed to significant manufacturing trade flows between China and Africa. Their collective stories highlighted the idea that African migrants can earn a living in China for themselves and their families, so aid is not Africa's only catalyst for growth.
"I'm a strong believer that migration is the most powerful influence on human history. Capital and technology are important but people are more important," Goldin says.
"What was nice to see in the film is the acceptance Africans received in China, you couldn't pick out a lot of racism against the Africans in that story," Goldin says, acknowledging also the importance of money sent back by African migrants.
Remittances by Africans worldwide was estimated at $51.8 billion in 2010, compared with $43 billion in Official Development Aid, according to World Bank statistics.
Since China's late 1990s economic boom, thousands of African traders and businesspeople, predominantly from West Africa, have migrated to Guangzhou, China's export hub.
Being such a new phenomenon, precise numbers are hard to find, but one 2007 estimate from a scholar at Guangzhou Institute of Social Sciences put the number of permanent African residents in Guangzhou at roughly 20,000. A 2008 report in the Chinese newspaper Southern Weekend estimated that Africans in Guangzhou had been increasing by 30-40 percent each year.
"The story of Africans in China is a remarkable one of entrepreneurs trying to survive, and trying to find new ways of generating income. They are a long distance from home, and in many cases do not even speak the local language," Goldin says.
He says the movement of Chinese people into Africa brings new skills and know-how onto the continent, and these are important lessons for African entrepreneurs who want to export their products to China to meet China's growing consumption demand.
In addition, Chinese work ethics and its model of efficient cooperation between the state and the business sector can also be good lessons for Africa.
"The government in China is stronger than in most countries, but the market is also strong. The government has managed to create a vibrant economy whilst still retaining key aspects of power. This relationship is different to most countries and I think there's a lot African countries can learn," he says.
Goldin says he first went to China in 1984, and has witnessed the growth of the country over those years.
"I think China is the most remarkable place in the world. It's done what nobody else has done - steady growth and eliminating a significant part of poverty. There is still some way to go, but I'm confident that China will achieve that. If African leaders can learn how to achieve this, then it'll be remarkable," Goldin says.
Chinese migration into Africa is also growing as a result of significant Chinese trade and investment in Africa.
Goldin says this movement, whereby Chinese migrants can work side by side with African locals on projects, will improve productivity by bringing different perspectives to the table. "Diversification is better than homogenous teams, and can help solve problems that both sides can't solve alone," he says.
As Africa is still unknown to many Chinese people, the pioneering Chinese migrants in Africa will help to bring important understandings of Africa, which in turn could lead to more economic and social exchanges.
Increasing interaction between Chinese migrants and African locals would also help to improve understanding and reduce racial prejudices. "When you live with people in a society, you realize that everyone is similar, and the differences go away when you spend time with people," he says.
Over time, the strong economic ties built on the back of migration flows between China and Africa will help Africa's economy diversify away from over-reliance on the West as a dominant trade and investment partner, Goldin says.
"Africa's historical relationship has been with Europe, and now it is increasingly with not just China but other rapidly growing economies like Brazil and India that are investing in Africa. This gives African governments, companies and people more choices," he says.
"If there's a crisis in Europe or North America, Africa would be less affected. This helps with the stability and sustainability of the African economy."
As both the Chinese and African economies evolve, the profile of migrants will also change, but migration flows and their contributions to both economies will continue, Goldin says.
When China's economy moves up the value chain, its labor cost will increase and China will no longer be able to sustain its cost-effective manufacturing advantage. Instead, Africa would likely become the world's manufacturing factory.
This shift means in the foreseeable future there will be many Chinese migrants in Africa exporting Africa-made products to China, in the same way African migrants are concentrating in Guangzhou today, Goldin says.
"Africa will become the manufacturing center of the world. In the same way you now have African migrants exporting clothes, I can imagine in 15 years' time there will be Chinese entrepreneurs going to Africa to export garments to China," he says.
cecily.liu@chinadaily.com.cn
(China Daily Africa Weekly 04/25/2014 page38)