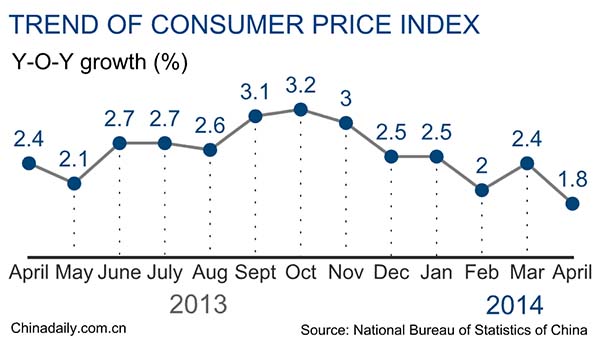 BEIJING -- China's consumer prices increased at a slower pace in April as the cost of fresh vegetables and pork both declined, official data showed on Friday.
The Consumer Price Index (CPI), a main gauge of inflation, increased 1.8 percent year on year in April, down from 2.4 percent in the previous month, according to the National Bureau of Statistics (NBS).
Slower increases in food prices were the main contributor to the lower CPI figure. Food prices increased 2.3 percent year on year, down from 4.1 percent in March.
Prices of pork, a staple of the Chinese diet, fell 7.2 percent, dragging down the CPI by 0.21 percentage points. Prices for the whole meat and poultry category dipped 0.7 percent, dragging down the CPI by 0.05 percentage points.
Fresh vegetable prices went down 7.9 percent, pulling down the CPI figure by 0.28 percentage points, the NBS said.