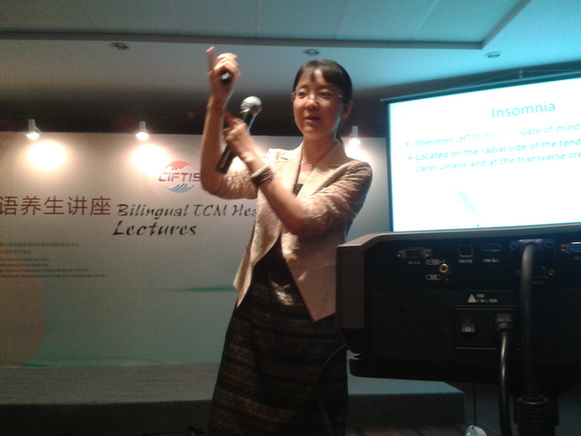 Ma Liangxiao, a PhD of the School of Acupuncture-Moxibustion & Tuina of Beijing University of Chinese Medicine introduced a form of acupressure to relieve insomnia on a bilingual TCM health lecture on May 30 in Beijing. [Photo by Song Jingli/chinadaily.com.cn]
There are many areas where traditional Chinese medicine (TCM) can help, including medical care, health management and tourism, but the first stage is still teaching people about its benefits, said participants at the China Beijing International Fair for Trade in Services.
Just ask Ding Yonglin, vice general manager of Tongrentang, a TCM maker established in 1669. In an interview on May 30, he said his company has had difficulties expanding its overseas network, adding that the Beijing fair is the first domestic event in which Tongrentang could showcase its products to the world without leaving China.
Howard Gough, chief executive officer of insurance company Cigna's Middle East & Asia Pacific Global Employer Segment, told China Daily he came to the Beijing fair to learn about TCM. Gough said once his company knows what benefits TCM can provide, it can then come up with insurance policies covering TCM fees.
He added that if policies such as these could be implemented, people living outside of China and Chinese people travelling abroad could get compensated if they need TCM care. As it stands, people living in most countries outside of China need to pay their TCM bills on their own because there are no existing insurance policies.