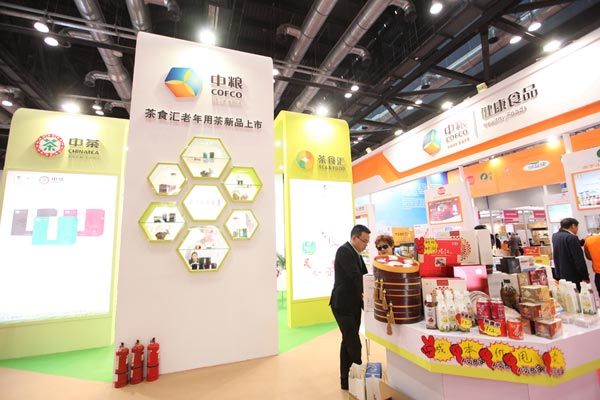 Cofco Group's display at a trade show in Beijing. Cofco will be "a powerful global agricultural trader and able to procure directly around the world," Fitch Ratings Ltd said in an April 3 report. Provided to China Daily
After spending the past decade and more than $200 billion acquiring mines and oilfields from Australia to Argentina, China's attention is turning to food.
The world's most populous nation is confronting a harsh reality: For every additional bushel of wheat or pound of beef the world produces, China will need almost half of that to keep its citizens fed.
In acknowledgment that it can't produce enough grain and meat domestically, mainland Chinese and Hong Kong-listed firms spent $12.3 billion abroad on takeovers and investments in food, drink or agriculture last year, the most in at least a decade, data compiled by Bloomberg show.
Those purchases included the largest Chinese takeover of a US company when Shuanghui International Holdings Ltd. bought Smithfield Foods Inc for $7 billion including debt. They are likely to be followed by overseas forays into beef, mutton and grain assets, according to the National Australia Bank Ltd.
"These deals have been bound to happen, and I'm actually surprised it didn't happen sooner," said Paul Conway, vice-chairman of Cargill Inc, one of the four companies that now dominate world food trade. "China will be more integrated into the global commodities system on the agriculture side than they have ever been."
During the country's explosive economic growth in recent decades, it's been a pattern of the government to use State-owned enterprises as national champions to lead a charge into strategic industries.
This is what happened with energy security when PetroChina Co went on a global, decade-long $40 billion-plus spending spree to acquire oil assets.
China's emerging champion in food security is Cofco Corp, which controls 90 percent of China's wheat imports and has made two acquisitions this year.
It bought controlling stakes in Dutch trader Nidera Holdings BV and Noble Group Ltd's agribusiness in the space of two months, paying about $2.8 billion in total.
With Noble's agribusiness, Cofco gained grain elevators in Argentina and sugar mills in Brazil, as well as oilseed-crushing plants in China, Ukraine and South Africa. The Nidera purchase gives Cofco a strong platform to produce grain in Brazil, Argentina and central Europe, the Chinese firm said in February.